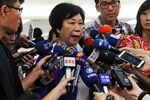 A regional flight crashed on Wednesday on an island off Taiwan's west coast, hours after a typhoon swept across the nation. The number of fatalities was not immediately clear.
TransAsia Airways Flight GE 222 was making a second attempt to land at Magong Airport on the island of Penghu. The ATR-72 turboprop plane carried 54 passengers and four crew members, according to Taiwan's civil aviation authorities. Early reports of the number of dead varied, from 41 to 51. The Straits Times reported that 47 people had died and 11 were injured, citing Taiwan Transport Minister Yeh Kuang-shih.
The flight from Kaohsiung was attempting to land during stormy weather related to Typhoon Matmo, which had struck Taiwan on Tuesday and moved west to mainland China by the time of the crash. Some parts of Taiwan received more than 18 inches of rain, with wind gusts well over 100 miles per hour, according to the Weather Channel.
TransAsia, a Taipei-based carrier, focuses mostly on domestic flights.
Before it's here, it's on the Bloomberg Terminal.
LEARN MORE