The White House Has a Plan to Stop Oil Train Explosions—Eventually
By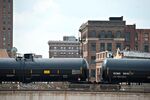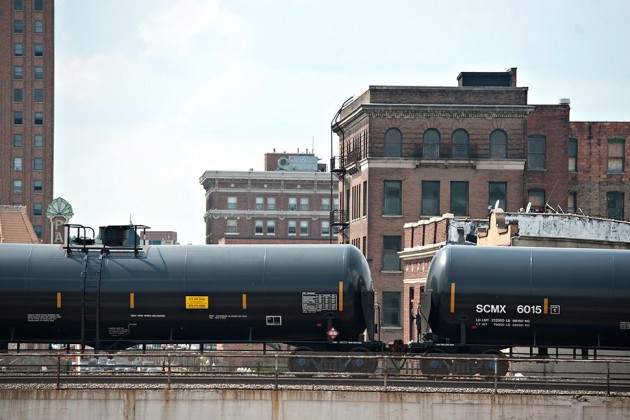 In the latest chapter of the exploding oil trains saga, the Obama administration has finally released its proposal on how to make them safer and, hopefully, less prone to blowing up. The fixes include phasing out old tank cars, enforcing lower speed limits, using better brakes, and possibly making railroads reroute trains containing large amounts of oil around populated areas.
The yearslong and particularly labyrinthine rule-making process reached the White House back in April, when the U.S. Department of Transportation sent its crude-safety proposal for consideration. But pressure to act took on particular urgency after the Lac Megantic accident just over a year ago, in which a train loaded with oil from North Dakota derailed inside the Canadian town and left 47 people dead. Several other accidents in the U.S. since then have focused attention on the problems caused by transporting more than a million barrels of oil a day across North America by train. The U.S. oil boom has outpaced the country's ability to move it around, causing big distribution bottlenecks and creating an opportunity for railroads to steal market from pipeline companies.
Before getting into the details of the proposal, it's helpful to understand the three industries with something at stake here: railroads, energy companies, and tank-car manufacturers. The railroads own the tracks but not the tank cars or the oil that's inside. The oil often belongs to big energy companies such as refiners or even trading firms that profit from buying it near the source—say, in North Dakota—and selling it elsewhere. These energy companies tend to lease the tank cars from large manufacturing companies or big lenders such as General Electric and CIT Group.
Although it is never their oil on board, the railroads usually end up in the headlines when something goes wrong. That's why they have been eager for a rule to make energy companies use stronger tank cars. Meanwhile, the oil industry has been busy issuing studies trying to prove that the oil coming out of North Dakota is safe enough to travel in the existing tank cars. The energy lobby also thinks railroads need to do a better job of keeping the trains on the tracks. Tank-car manufacturers, meanwhile, simply want some clarity around what kind of cars they need to build.
Much of the criticism has focused on the quality of the tank cars used to haul oil. Most accidents have involved a class of car called the DOT-111, which is widely seen as rupture-prone and insufficient to carry flammable crude oil. The same kind of car also carries less combustible things, such as soybeans and corn.
Earlier this year, Canadian regulators moved to phase out DOT-111 cars over the next three years. The U.S. proposal seeks to do it in two. The question is whether the industry will adopt tank cars with shells that are 9/16ths of an inch thick or 7/16ths of an inch. The proposal also suggests the option of including electronic "pneumatic" brakes and some kind of rollover protection.
Of the roughly 92,000 tank cars used to haul crude and other flammable liquids in the U.S., only 14,000 have the updated safety features. Modifying them could cost the industry about $5.2 billion, according to estimates by Bloomberg Government. That would mean a lot of new work for tank-car manufacturers.
Shares of Trinity Industries, the largest publicly traded rail carmaker, and rival Greenbrier both climbed by nearly one percent on Wednesday, as a report in in Bloomberg News points out. At the same time, railroads fell. Union Pacific, the largest publicly traded U.S. railroad, dropped 0.2 percent, and CSX Corp.(CSX:US) fell by 0.4 percent.
The proposal released by the White House introduces the term "high-hazard flammable train," defined as a train carrying 20 or more cars of oil. Most of the recommendations would apply to these HHFTs—a much lower threshold than many in the railroad industry may have been expecting. Many of the "unit" trains that travel around the country are more than 100 cars long.
In light of concerns over whether North Dakota crude is extra-flammable, federal transportation officials also want to subject it to more frequent and rigorous testing. That drew an immediate rebuke from the American Petroleum Institute, which sent an e-mail in which the group's chief executive, Jack Gerard, pushes back against the impetus for the new rules: "The best science and data do not support speculation that crude oil from the Bakken represents greater than normal transportation risks.
The DOT also wants to subject oil trains to more rigorous routing standards. Oil has not been subject to the same strict routing procedures as other hazardous chemicals such as chlorine. While a train filled with toxic chlorine has to be routed away from populated areas—often via a competing company's rail network—an oil train can typically chug right through downtown in the middle of the day.
That supposedly changed this month when new rules took effect that subject oil trains to similar routing standards as other hazardous materials, although it's still unclear how much leeway railroads will have in determining how to route an oil train. In some cases, the only alternative is to add hundreds or thousands of miles to a route to avoid urban areas. In many cases, cities can't be avoided without building new tracks. It does not seem as if the DOT will go so far as to compel railroads to build new tracks.
Finally, the proposal released Wednesday codifies an emergency order DOT issued in May requiring railroads to share information on oil trains with state emergency response teams. That sparked a debate over state open access laws, as railroads pressured states to keep the data secret. Some states are making them public.
The industry now has 60 days to comment on the proposed rules.
Before it's here, it's on the Bloomberg Terminal.
LEARN MORE