pursuits
Healthier Habits Haven't Stopped the Doritos and Cheetos Snack Boom
By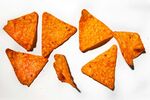 Snacks, not fizzy drinks, served once again as the highlight of PepsiCo's quarterly performance. Revenue from its Frito-Lay division increased 2 percent in North America, according to an earnings report released Wednesday, while beverage sales in the region remained flat.
Pepsi Chief Executive Indra Nooyi told analysts on a conference call that revenue from sales of Lay's, Doritos, and Cheetos increased, in percentage terms, in the low to high single digits, driving some of the company's growth for the quarter. She also mentioned strong results in dips, including the Sabra hummus brand, as well as crackers and Smartfood popcorn.
By now the narrative that consumers are making more health-conscious decisions about what they eat and are buying more fresh foods has become well established. But that doesn't mean we've totally given up snacking, and sales of such packaged foods as chips and snack bars reflect this fact.
Just over half of Americans now snack three or more times a day, according to 2010 government data, up from about 20 percent in the 1990s. "Whether the product is a snack food, a main meal food, or if it comes from a foodservice operator, the opportunity [for marketers] is that consumers are eating more often throughout the day," says Darren Seifer, a food and beverage industry analyst at NPD.
Pepsi's diet beverages haven't been picked up by the general push toward healthier consumption. "We continue to see declines in diet," said Nooyi, "and this is something that seems to continue."
Before it's here, it's on the Bloomberg Terminal.
LEARN MORE