China's Horrible Flight Delays Are About to Get Worse
by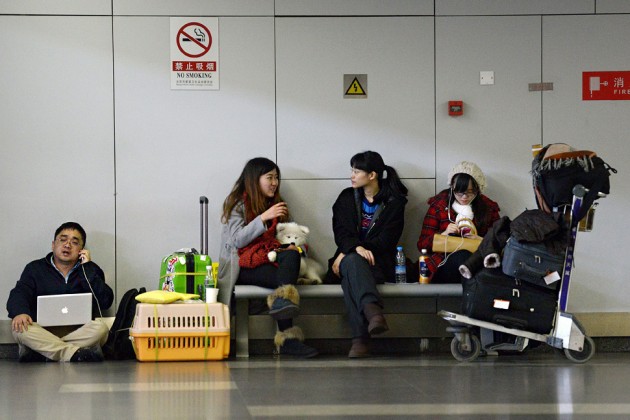 China's airports have long been known for frustratingly frequent flight delays. Just as maddening, there's rarely a clear explanation offered for the holdups.
The lack of information has spawned a cottage industry of speculation on China's Web, ranging from the mundane (the flight was delayed to allow a local official to catch his plane) to the spectacular (a possibly corrupt People's Liberation Army general has attempted to flee China, as in a rumor that circulated earlier this month).
Those who fly China's not-so-friendly skies are about to spend even more time grounded. "Passengers in east and central China will face mass flight delays until Aug. 15, the China Daily reported on July 22. At least the cause and culprit seem clearer this time: "Twelve airports were ordered to reduce scheduled flights by 25 percent due to large-scale People's Liberation Army drills."
China's official English language paper cited as its source a report by news.cnr.cn, the website of China National Radio. National radio reporters, in turn, spoke to China's civil aviation authority, which confirmed that delays are expected at Hongqiao and Pudong airports in Shanghai, as well as in major cities nearby, including Nanjing, Hangzhou, Hefei, Wuxi, Jinan, and Qingdao. Without mentioning the military directly, the authorities explained that the delays will be due to the "influence of high-frequency exercises by other users."
The advance warning hasn't appeased China's long-suffering air commuters. "Under the guise of national security, they are putting their own interests above the national interest," wrote one person on Sina Weibo on Tuesday. "In fact, this also reflects the position of the people in the eyes of the army and the government. This happens because they not respect the people's interests," wrote an additional commenter earlier today, on the same site.
Last year a report by industry researcher FlightStats found airports in Beijing and Shanghai the worst in the world for on-time departures. Only two out of every 11 flights (18 percent) from Beijing Capital International Airport took off at the time scheduled, with roughly three out of 11 (29 percent) doing so at Shanghai Pudong International Airport. Third worst in the world was the airport in Istanbul, with a 38 percent on-time departure record, followed by Paris, with just under 60 percent taking off on time. By contrast, New York's LaGuardia had about 72 percent of its flights leave on time.
Before it's here, it's on the Bloomberg Terminal.
LEARN MORE