China's Army Turns to Dancing Robots, Big Macs to Burnish Image
Bloomberg News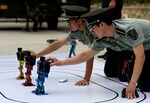 China's army turned to dancing robots, served up Big Macs and showed that amphibious vehicles can indeed do donuts in its latest attempt to soften a public image buffeted by a series of corruption scandals.
The People's Liberation Army invited local and international media to its seventh annual open day in Beijing yesterday. The Academy of Armored Forces Engineering, located in a southern Beijing suburb, hosted the event for the first time.
This year's gathering comes weeks after Xu Caihou, a former vice chairman of the Central Military Commission, the highest military body, was expelled from the Communist Party for bribery, one of the latest targets in President Xi Jinping's campaign to eradicate corruption from the world's largest army by headcount.
"As for recent corruption cases in the military, I feel that those are isolated cases and do not represent the general image of the military," Major General Xu Hang, commandant of the academy, told reporters. "There are many reasons why such things should occur as a country grows and develops. They're worth us reflecting upon and learning from."
Outside on the drill ground, cadets climbed rock walls and negotiated obstacle courses.
"You can see the future of the Chinese army in them," said Colonel Yang Yujun, a spokesman from the Ministry of National Defense, as he watched the cadets. "They have mastered knowledge of advanced technology and they are going to be the officers of the Chinese army."
Improved Recruiting
In an effort to professionalize its forces, the PLA is focusing resources on improving the quality of its recruits and their training. Students at the academy will get a college education, some graduating with a doctoral degree. China plans to increase defense spending 12 percent this year to $808.2 billion yuan ($130.3 billion) as it strengthens the 2.3 million-strong PLA.
"I've always wanted to be a soldier," said 21-year-old Gao Qingnan, a sophomore at the academy from Shanxi province, as he operated laboratory equipment in a classroom. "I wanted to join the army directly when I graduated from high school but I also scored pretty well in the college entrance examination. So why not come to a military academy?"
In a nearby courtyard their mechanical skills were on show as five knee-high robots danced in sync to Shakira's South Africa World Cup hit "Waka Waka."
Another cadet, Zhang Xinliang, who will begin his senior year in engineering in September, said his curriculum -- physics, math, engineering, mechanics -- is similar to that offered by civilian engineering schools. Students are also given language instruction in English, Japanese and German.
"You see those amphibious vehicles outside? We are learning about their mechanical parts here so we can operate and fix them," he said.
Eight-Wheeled Donuts
Cadets also learn how to handle them, with one displaying skills some might consider more suited to a drag-racing track than a military academy, skidding the eight-wheeled vehicle into a series of perfectly executed donuts as officers looked on with approval.
As if to counter a recent blast of publicity over how the PLA was forced to relax its physical standards to attract better-educated recruits, a group of fit-looking cadets scaled a rock wall while others performed fighting drills.
The academy also trains cadets from foreign armies, with students attending from countries including Mongolia and Cambodia and some in Africa, according to a training officer. Though foreign cadets were shown attending class in a promotional video, none were made available for interviews.
After nearly four hours of fighting drills, armored-vehicle displays and interviews with cadets, the media were ushered back onto three buses for the hour-long drive back to Beijing.
On each seat, a paper bag. Inside, a bottle of water, a moist towelette and a warm Big Mac.
— With assistance by Xiaoqing Pi, and David Tweed
Before it's here, it's on the Bloomberg Terminal.
LEARN MORE