Boeing's 'Build It and They Will Come' Plan Shows a Profit
By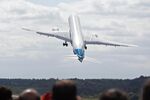 Stoked by a strong order backlog, Boeing has churned out 324 commercial jets in the first half of 2014, up 12 percent from last year. That "build more, earn more" strategy is paying off, as aircraft manufacturers receive the bulk of the payment for a new plane when it is delivered. The 181 planes (pdf) Boeing delivered in the second quarter set a record for the Chicago-based manufacturer, which reported a $1.65 billion profit Wednesday that topped forecasts.
Boeing and European rival Airbus have benefited from airlines' rush to replace older, less fuel-efficient aircraft, a trend that has spelled the demise of four-engine planes on many long-haul routes. "This industry has not seen this kind of replacement economics since the 707," Boeing Chairman and Chief Executive Jim McNerney said today on a conference call with analysts, referring to the 1950s-era commercial jet that was considered truly modern in its technical advances.
Still, the company doesn't make a dime yet on any of the new 787 Dreamliners it builds as that program carries costs related to numerous delays and a grounding by U.S. regulators. Boeing's commercial jets also face the potential loss of export financing if Republicans in Congress succeed in revamping or closing the U.S. Export-Import Bank.
Boeing expects to deliver as many as 725 airplanes this year, including 110 of its new 787 Dreamliner—a model that remains in the red. That would be a record, topping the record set last year, when the company delivered 648 planes.
Investors remain unimpressed. Boeing also took a $272 million charge for expenses related to its KC-46A air-refueling tanker that it's building for the Pentagon, based on its 767 civilian aircraft. Executives said the extra engineering and assembly work relates to wiring problems encountered when assembly of the first tanker began, but that the issue is "well understood" and won't affect the tanker program's long-term prospects. The size of the charge, however, worried investors, who sent shares down 2.3 percent Wednesday. Boeing shares have declined 7 percent this year.

The company's commercial order book tops 5,200 airplanes—most of it for the industry's staple workhorses, Boeing's 737 and 777 models—worth about $377 billion. Including orders for defense products, Boeing's total backlog stands at $440 billion. The company added 264 plane orders in the second quarter, including commitments for 200 of the new 777X by Emirates and Qatar Airways. Boeing expects that new long-haul jet to enter service by 2020.