Americans Now Spend More Time on Facebook Than They Do on Their Pets
By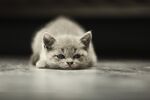 Facebook's business used to be interesting, back when there were questions about the health of its mobile ad business, investors were seriously concerned about Chief Executive Mark Zuckerberg's wardrobe, and the company looked as though it might prove that social media wasn't just a great business after all. Lately, though, Facebook has sucked all the tension away from its quarterly fiscal check-ins. On Wednesday the company reported earnings that exceeded expectations in terms of revenue ($2.91 billion) and the size of its user base (1.32 billion monthly active users).
Perhaps the most striking figure, though, was that Facebook says the average American now spends 40 minutes a day checking a Facebook feed. That's nothing compared with television, which Americans spend more than five hours watching on a daily basis, but it's a lot. Here's a partial list of things that Americans now devote less time to than Facebook, according to the Bureau of Labor Statistics' American Time Use Survey (PDF). (Note: This is the average time spent for people who spend any time engaged in the given activity; if you included people who spend no time on it, the list would be much longer.)
* Take care of their pets (39 minutes)
* Household and personal e-mail (33 minutes)
* Household and personal snail mail (17 minutes)
Facebook said last June it had 128 million daily average users in the U.S. That's about 40 percent of the country's population. Fewer than 40 percent of Americans do the following things each day, according to the survey:
* Buy consumer goods (39 percent)
* Travel to work (35 percent)
* Do housework (34 percent)
* Participate in organizational, civic, or religious activities (14 percent)
Before it's here, it's on the Bloomberg Terminal.
LEARN MORE