'Bring It On,' Frank Tells Dodd-Frank Critics at Hearing
Cheyenne Hopkins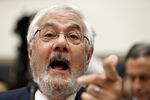 It was 2010 all over again in the U.S. House Financial Services Committee.
Barney Frank, the panel's former chairman, returned to Washington yesterday to sit before the committee and provide a feisty defense of that year's regulatory overhaul, the Dodd-Frank Act that bears his name. The hearing split along partisan lines in support of and opposition to the wide-ranging law passed in response to the 2008 financial crisis.
"I know the chairman said the financial reform bill is as damaging as the health-care bill," the now-bearded Massachusetts Democrat said, referring to the current Republican chairman, Jeb Hensarling of Texas. "Well my recollection is this Republican Congress votes on a fairly regular basis to repeal the health-care bill. But where's your bill to repeal the financial reform bill? If you have the courage of your convictions, bring it on."
Frank sat a witness table with a community banker and a representative of companies that use derivatives to hedge commodity costs; both called by Republicans to provide testimony about the act's harm to their businesses and lending. When he looked up at the committee, Frank could meet his own gaze in a portrait of the former chairman hanging above the members.
Frank largely defended the law while endorsing some changes. He said the Volcker Rule, which limits risky trading by banks, could be limited to larger institutions. Asset managers, he said, shouldn't be designated as systemically important, which would subject them to additional oversight by the Federal Reserve.
16 Terms
Frank retired from Congress at the end of 2012 after 16 terms. His most significant achievement was pushing the regulatory overhaul law, along with former Senator Chris Dodd, a Connecticut Democrat.
Their eponymous measure, signed into law by President Barack Obama four years ago on July 21, subjected the largest institutions to higher capital and liquidity standards and created resolution authority to allow for the dissolution of a large failing firm. The law also created the Consumer Financial Protection Bureau and subjected over-the-counter derivatives to regulation.
Republicans on the panel said the law created a regulatory burden that has stunted lending and job growth.
"Thanks to Dodd-Frank, it is now harder for low and moderate-income Americans to buy a home," Hensarling said. "Again, thanks to Dodd-Frank, there are fewer community banks serving the needs of small businesses and families. Thanks to Dodd-Frank, Main Street businesses and farmers face higher costs in managing their risk and producing their products, which is impacting every single American at their kitchen table."
Compliance Costs
The community banker at the table with Frank, Dale Wilson, chairman, president and chief executive officer of Texas-based First State Bank of San Diego, testified that complying with the act created a burden for banks like his.
"Unless major changes are made, compliance costs will continue to drive massive consolidation within our industry and limit the ability of our nation's community banks to drive Main Street growth across the country," Wilson said.
Congressman Randy Neugebauer, a Republican from Texas, said Dodd-Frank has had "an enormous impact on the health of our economy and has introduced a new type of risk to our economy called regulatory risk," which he said is "having a severe negative impact on our economy, particularly on our small businesses and community banks."
Frank said Republicans calls for more lending run counter to their past complaints of too much lending to lower-income borrowers.
'Schizophrenic Approach'
"I am very struck by the frankly schizophrenic approach the majority seems to be taking on subprime loans, loans to poor people. I was astonished again that there is criticism that fewer loans being made to low-income people -- yeah! That was what I thought everyone wanted to do."
Frank also took shots at Hensarling for being unable to pass a bill to eliminate government-owned mortgage backers Fannie Mae and Freddie Mac and replace them with a largely private market. Lawmakers in both parties have endorsed winding down the companies to reduce the government's role in housing finance.
"I know this committee passed a bill on Fannie and Freddie but it hasn't passed the House," Frank said. "Even so I think we are about to be seeing the fourth anniversary of your party being in control of the House and not doing anything about the problem."
'Not Embarrassed'
Banks also received little sympathy from the former chairman. Republicans said the law has resulted in financial institutions being forced to hire compliance officers while losing other staff.
"To the extent that we were responsible for JPMorgan Chase beefing up its compliance staff, I am not embarrassed," Frank said.
The hearing follows a report released July 21 by House Republicans that concluded the Dodd-Frank law actually strengthened the perception that some banks are too big to be allowed by the government to fail.
"The Dodd-Frank Act is clear: Not only is there no legal authority to use public money to keep a failing entity in business, the law forbids it," Frank said.
Other members, including at least one Democrat, weren't excited about the trip down memory lane.
"This is another one of these show-and-tell hearings with apparently no purpose," Congressman Michael Capuano, a Democrat from Massachusetts, said. "To me I'm actually kind of tired of them. If it wasn't because of Barney, I would have left."
Before it's here, it's on the Bloomberg Terminal.
LEARN MORE