U.S. Airlines Cancel All Flights to Israel for 24 Hours
By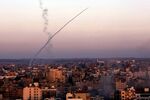 Danger from missiles has prompted U.S. airlines to scrap flights to Israel. The move comes after the Federal Aviation Administration told U.S. airlines on Tuesday to stop flying to Tel Aviv's Ben Gurion Airport for 24 hours after a rocket strike landed about one mile from the airport on Tuesday morning. The order applies only to U.S. carriers.
Delta Air Lines and United suspended flights to Tel Aviv to ensure passengers' safety as the conflict between Israel and Hamas grinds on, with rockets fired from Gaza countered in the skies by missiles fromIsrael's Iron Dome defense system. American Airlines also canceled its Tuesday night flight from Philadelphia to Tel Aviv. "We are monitoring the situation," American spokesman Casey Norton said.
Delta diverted Flight 468 to Paris on Tuesday after reports of "a rocket or associated debris" near Ben Gurion International Airport, the company said in a statement. The flight, a Boeing 747 with 273 passengers and 17 crew members, departed New York just before midnight and was scheduled to land in Israel at 5 p.m. local time. The flight was over Italy when Delta redirected the jet to Charles de Gaulle Airport, near Paris.
United Airlines has two daily flights from Newark, N.J., to Tel Aviv, which the company said will not operate until further notice. "We are working with government officials to ensure the safety of our customers and our employees and will continue to evaluate the situation," Chicago-based United said in a statement.
The FAA's decision spurred several international carriers, including Air France, Air Canada, Lufthansa and SAS Scandinavian, to cancel their flights to Tel Aviv scheduled late Tuesday and Wednesday. Korean Air suspended its flights last week, citing the security situation in Israel.
Concern over missiles has increased since the July 17 shoot-down of a Malaysia Airlines flight that was cruising at 33,000 feet over Ukraine. The U.S. and U.K. say evidence points to an anti-aircraft missile fired from the eastern edge of the country, which is controlled by Russian-backed rebels. The rebels have denied downing the Boeing 777.
Before it's here, it's on the Bloomberg Terminal.
LEARN MORE