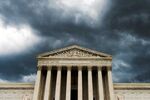 Do you want Obamacare to succeed or fail? Either way, federal judges have something for you.
Separate federal courts on Tuesday issued conflicting opinions that could have huge consequences for the future of the Affordable Care Act. Plaintiffs argued that the law  allows only subsidies on state exchanges, not on the federal healthcare.gov marketplace, so no help can be made available to people in states that have resisted building their own marketplaces. The question before the courts that will determine what millions of people pay for health insurance: Are subsidies on the federal exchange lawful?
No, they're not, said the D.C. Circuit Court of Appeals in a ruling (PDF) issued on Tuesday morning. "We conclude that the ACA unambiguously restricts the section 36B subsidy to insurance purchased on Exchanges 'established by the State,'" Judge Thomas Griffith wrote.
About a hundred miles south on I-95, the Fourth Circuit Court of Appeals in Richmond, Va., reached the opposite conclusion in an opinion (PDF) released hours later. "We find that the applicable statutory language is ambiguous and subject to multiple interpretations," Judge Roger Gregory wrote. "We uphold the rule as a permissible exercise of the agency's discretion."
Conflicting opinions at the circuit court level means that the question will probably be settled by the Supreme Court. The decision will determine whether the country broadly moves in the direction of expanding health insurance or if states split along the familiar red-blue axis. An earlier Supreme Court decision let about half the states forgo expanding Medicaid, the federal insurance program for the poor, as Obamacare had intended. If the courts now decide that subsidies in the federal exchange are unlawful, states that choose not to build their own insurance marketplaces would essentially opt-out of Obamacare's most fundamental policies. Millions of their citizens will have to pay more for coverage.
Before it's here, it's on the Bloomberg Terminal.
LEARN MORE