The iPad Continues to Struggle, and a New iPhone Could Make It Worse
By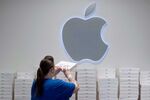 Apple's profit machine, the iPhone, has apparently been chugging away just fine for the last three months. Apple reported on Tuesday that it had sold 35.2 million iPhones, about what Wall Street expected, and turned a $7.7 billion net profit in the process. This counts as ho-hum for Apple, and the numbers really didn't come as much of a surprise. We're in the slow period of Apple's calendar—before the new iPhones are released and after the excitement about the last generation has died down.
As a result, today's earnings report is largely an exercise in looking for clues about whatever Apple is planning for this fall. The company doesn't come out and say anything direct about its plans for new products (although executives did say they were excited!). What it does do is issue a forecast for next quarter, which goes through the end of September: revenue between $37 billion and $40 billion, slightly lower than analyst expectations compiled by Bloomberg. That seems to point away from an iPhone launch in September, since the new launches are always accompanied by spikes in sales.
Apple doesn't seem to be pushing anything too far off, though. There are signs that it's planning a pretty big party before the end of the year. On Tuesday morning the Wall Street Journal reported that Apple is asking suppliers to prepare between 70 million and 80 million large-screen iPhones, a significantly bigger order than last's year's runup to the release of the iPhone 5S and 5C.
Another positive sign: Apple is already selling more phones in greater China, less than a year after inking a deal with China Mobile, the world's largest phone carrier. Baird Equity has been studying Chinese search results and says there is significantly more interest in iPhones this year than there was last year at this time. Searches don't directly translate into sales, of course, but you can bet that Apple's not complaining about Chinese customers obsessing over iPhone 6 rumors.
The Mac business is another bright spot. Apple sold 4.4 million Mac products, better than expected. The growth is particularly notable given that the overall PC market continues to shrink.
The bad news: iPads. Apple sold only 13.2 million new tablets, down from 14.6 million a year earlier. This comes on the heels of a disappointing quarter this spring. "IPad sales met our expectations, but we realize they didn't meet many of yours," Apple Chief Executive Tim Cook told investors, blaming inventory issues and softness in the U.S. and European markets. He said that the most important thing to Apple was that iPad users were enjoying them and using them a lot.
In the call with investors, Cook focused on the enterprise market. Apple has a big proportion of that market, but Apple isn't satisfied with how many businesses are adopting tablets. He says that a recent deal with IBM to create better enterprise apps will help speed that process up. "I just think we have to do some more things to get the business side of it moving in a faster trajectory," he said. "I think we're now onto something that can really do that."
The overall tablet market has been shaky, and many people think it's because smartphones with more powerful processors and bigger, better screens make them seem less necessary. Whenever Apple does release its new iPhones, they will likely be both bigger and more powerful than the iPhone 5S. That's likely to be good news for Apple as it tries to claw market share back from Samsung. It could also be bad news for the iPad, as it tries to sell iPads to people with big phones in their pockets. But Apple has never been shy of cannibalizing its own products, so the iPad's loss could be the company's gain.