pursuits
Cappuccino-Flavored Potato Chips Exist and This Is What They Taste Like
By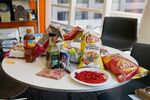 Lest we forget that PepsiCo reports its second-quarter earnings on Wednesday, the company sent us two big boxes of snacks in flavors that are nothing if not memorable. Yes, we got the Cappuccino-flavored Lay's and the other three finalists in Lay's people's choice potato-chip flavor popularity contest: Cheddar Bacon Mac & Cheese; Mango Salsa; and Wasabi Ginger. But there was more! We also got Papryka Lay's (with Lionel Messi on the front and Polish writing on the back); a two-in-one Cheetos-Doritos Dinamita combo pack that blended Flamin' Hot flavor with Chile Limón; and something called Twistos.
There were also beverages. Obviously, we ate everything.

Review: "This is like Lay's with straight-on gummy bear. And salt." Alternate review: "I like this enough. I would buy this. If I ever bought anything other than salt-and-vinegar, which I don't."

Review: "Oh. These are fine." Alternate review: "Lionel Messi likes this? I'll eat anything Lionel Messi eats."

Review: "What IS that?" Alternate review: "It's croutons-lite. Totally innocuous. One is enough."

Review: "This tastes barbecue-y. It's not horrible." Alternate review: "It tastes like a cheeseburger. It's like comfort food dusted with comfort food flavor."

Review: "Oh my god, this is so good. It tastes just like Cherry Coke." Alternate review: There was no alternate review because Reviewer No. 1 refused to share.

Review: "It's really quite hot for a mass-produced snack food." Alternate review: "I want another one."

Review: "This is fine, although it tastes like neither ginger nor wasabi." Alternate review: "It has a complicated aftertaste."

Review: "This is just orange Gatorade."

Review: "These are gross, but in an unremarkable way." Alternate review: "They taste like they fell into a K-Cup."

Before it's here, it's on the Bloomberg Terminal.
LEARN MORE