Perry's Guard Surge Follows Record Buildup Along Border
Esmé E. Deprez and Darrell Preston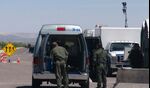 The 1,000 Texas National Guard troops Governor Rick Perry will send to the Mexican border will augment almost 10,000 federal agents already there, part of an unprecedented buildup guarding a line with more physical obstacles than ever.
Droves of unaccompanied children are flooding the southern U.S. border, many surrendering to the first official available in the mistaken belief that they'll be allowed to stay. Perry, a Republican considering a second run for the White House who has led a chorus of politicians blaming President Barack Obama for the crisis, said his order is aimed at protecting Texans from drug smugglers and lawbreakers.
Omar Lucio, the Democratic sheriff of Cameron County, at the southern tip of Texas, said the governor is misguided.
"We're not at war with Mexico," he said. "We're their neighbor. These kids coming across are not criminals."
U.S. Border Patrol agents numbered 21,391 in the year that ended Sept. 30, up 22 percent from 2008, before Obama took office, and almost twice as many as a decade earlier, according to the Department of Homeland Security. In Texas, there are about 9,700.
57,000 Youths
With the help of fencing, ground sensors and mobile surveillance, they are contending with a wave of more than 57,000 unaccompanied minors apprehended along the 1,900-mile (3,058-kilometer) border with Mexico since October. The number is twice as many as in all of fiscal 2013. Most are fleeing violence and poverty in El Salvador, Guatemala and Honduras.
They often cross onto U.S. soil with the help of smugglers linked to drug gangs. Calling up the Texas National Guard, which answers to the governor, will "combat the cartel activity, human traffickers and individual criminals," Perry, 64, said yesterday in a statement.
"There can be no national security without border security, and Texans have paid too high a price for the federal government's failure to secure our border," he said.
Texas has the longest frontier with Mexico, at 1,241 miles, followed by Arizona, 373 miles; New Mexico, 180 miles, and California, 140 miles, according to a report to Congress. None of the other border states have followed Texas's example.
'Different Considerations'
"The border shared by Texas and Mexico presents a significantly different set of considerations than those presented by the border shared by California and Mexico," Captain Will Martin, a spokesman for the California Military Department, which reports to Democratic Governor Jerry Brown, said yesterday in a statement.
Enrique Knell, a spokesman for New Mexico Governor Susana Martinez said the Republican leader had no plans to deploy the militia, but "does believes there is a role for the National Guard in protecting our border."
In Arizona, Republican Governor Jan Brewer's office didn't respond to e-mail and telephone messages requesting comment on the potential use of state forces.
It's not clear what the Texas guard will do. Troops will work "seamlessly and side by side" with law-enforcement officers who have authority to detain people, said Lucy Nashed, a spokeswoman for Perry. They won't be part of any humanitarian mission addressing the needs of children, she said.
Expected Deployment
The guard is choosing units and "individuals with the required expertise" to begin training for deployment within 30 days, Staff Sergeant Jennifer Atkinson, a spokeswoman for the Texas Military Forces, said today by e-mail. Participation won't "impact any ongoing operations, or the guard's ability to respond to any natural disasters or incidents," she said.
The mobilization prompted Wendy Davis, a Democratic state senator running for governor, to repeat her call for Perry to convene an emergency legislative session to authorize more funding for law enforcement. More deputy sheriffs should be deployed instead of guardsmen, "who aren't even authorized to make arrests," Davis said.
Perry's call-up is a stunt, said Marshall Fitz, director of immigration policy at the Center for American Progress, a Washington-based group that has been closely aligned with the administration.
"It's an effort to tap into this basic fear of lack of control of the border," he said. "What's needed is the facilities to deal with this current influx of kids."
Some local lawmakers said Perry's action, which didn't require federal authorization, was the wrong approach for what should be viewed as a humanitarian crisis.
"I don't know of one city council member, county commissioner, court or school board member that has requested the militarization of the border," said Representative Rene Oliveira, a Democrat from the border city of Brownsville.
Surge Ordered
In June, Perry and other Texas leaders directed the Public Safety Department, an agency that includes the Highway Patrol and Texas Rangers, to put more personnel along the border at a cost of $1.3 million a week.
Perry renewed his call for Obama to send troops after a July 9 meeting in Dallas to discuss border security. Obama asked Perry to push Congress to approve the president's request for $3.7 billion to address the crisis. When Obama didn't visit the border, Perry traveled there July 10 with Fox News commentator Sean Hannity.
Perry took office in late 2000 and is Texas's longest-serving governor. A run for the 2012 presidential nomination was dashed during a debate in suburban Detroit, where he couldn't remember the name of the third of three government agencies he'd pledged to eliminate.
Reputation Rebuilder
"The insecurity on the border has brought him to a position where he can implement something he advocated for years and rebuild his reputation," said Calvin Jillson, professor of political science at Southern Methodist University in Dallas.
During a two-day swing through Iowa last weekend, Perry discussed the issue. Republican audiences in the state, whose nominating caucuses are crucial for presidential aspirants, often rewarded him with applause when he blamed Obama for being caught off guard by the flow of undocumented children.
"If the federal government does not do its constitutional duty to secure the southern border of the United States, the state of Texas will do it," he said to applause from about 100 people gathered in a hangar at the Mason City Municipal Airport.
Before it's here, it's on the Bloomberg Terminal.
LEARN MORE