Obamacare Ruling by the Numbers: 4.7 Million People Could Lose Subsidies
By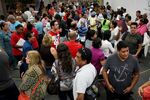 A federal appeals court panel ruled on Tuesday that the Affordable Care Act doesn't allow the U.S. government to help people buy insurance; only states can do that. "We conclude that the ACA unambiguously restricts [subsidies] to insurance purchased on Exchanges 'established by the State,'" the judges wrote (PDF). Since 36 states decided not to establish Obamacare marketplaces, residents in those places will lose the federal help they expect to get if the ruling stands.
The case, Halbig v. Burwell, is headed to appeal and could end up before the Supreme Court. If Tuesday's ruling is upheld, however, the scope of disruption will be staggering. It would gut Obamacare in states that chose not to participate. Here's a look at the potential fallout, by the numbers:
• 4.7 million: That's the number of people receiving subsidies in the federal marketplace this year, according to federal data (PDF).
• 86 percent: The proportion of subsidy recipients, out of all those who bought insurance on federal exchange. The vast majority of people who used the the federal insurance-exchange website to buy coverage received some sort of subsidy.
• 14 million: That's the rough estimate of how many people would receive federal subsidies by 2017, if current enrollment patterns continue. The first-year numbers understate the impact because total exchange enrollment is expected to triple, to 25 million, in the next three years, according to Congressional Budget Office estimates (PDF).
• 1.5 million: The number of people in just Florida and Texas—the two biggest participants in the federal exchanges—who would lose insurance subsidies. Nearly one-third of all federal subsidies offered to healthcare.gov enrollees went to someone in Florida and Texas. Health-care providers in those states would face the biggest wave of uninsured people, driving up costs for hospitals that have to provide emergency care, regardless of patients' ability to pay.
• $46,680: An individual who earns that much per year—four times the federal poverty level—is eligible for federal insurance subsidies. For a family of four, the income threshold is $95,400.
Stripping subsidies for millions of Americans would significantly trim the costs of Obamacare. Right now, the CBO estimates that exchange subsidies over the next decade will cost more than $1 trillion. That number would surely go down.
Before it's here, it's on the Bloomberg Terminal.
LEARN MORE