Refuse a Drug Test in Mississippi? Your Child Will Lose Welfare Benefits
By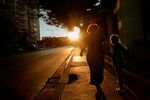 At a hearing in Mississippi on Tuesday morning, civil rights groups made a final effort to shield kids from a new law restricting access to welfare benefits.
Under the law, HB 49, potential recipients of Temporary Assistance for Needy Families payments will be required to fill out new questionnaires, after which some will be required to pass drug tests in order to get benefits. It was scheduled to take effect on July 1 but was delayed when the state granted a request from the American Civil Liberties Union and civil rights groups to hold a public hearing on its implementation.
Progressive groups have taken particular issue with a proposed regulation, drafted by the Mississippi Department of Human Services as part of putting HB 49 into effect, that would cut off benefits for children if a parent refused a drug test or failed one after completing a treatment program. The critics contend that such a provision contradicts state law by punishing the families of drug users and should be scrapped. Mississippi Center for Justice Advocacy Director Beth Orlansky warned in her prepared testimony for Tuesday's hearing that the bill, as written, "does not indicate an intention to extend the sanction to the family" and said "the proposed rule is in direct conflict with the state law."
Not that cutting off benefits to parents doesn't affect their children. According to Orlansky's group, close to 16,000 kids and 6,000 adults receive TANF benefits each month in Mississippi, and 22 percent of the state's current cash-assistance caseload consists of children living with disabled parents who receive Supplemental Security Income from Social Security.
Mississippi Governor Phil Bryant, a Republican, has championed passage of HB 49, saying it "will help make a positive difference for families impacted by substance abuse." Legislators defeated a proposed amendment that would have subjected executives of government-subsidized companies to take drugs tests; a second amendment that would have required drug tests for legislators was dismissed.
Mississippi is among more than 20 states in which bills to test or screen TANF recipients for drug use were introduced or pending in 2014, and it is one of 10 states to have passed such laws since 2011. Florida's blanket drug test requirement was struck down in December by a federal judge who wrote that "there is no set of circumstances under which the warrantless, suspicionless drug testing at issue in this case could be constitutionally applied."
In most states, some or all people with past felony drug convictions are also banned from receiving TANF or food stamp benefits under a provision of the 1996 welfare reform bill that U.S senators Rand Paul (R-Ky.) and Cory Booker (D-N.J.) this month announced they will seek to change. "I think society at large is changing over how we should punish people for drug offenses," Paul, a Republican, said in a recent interview with Bloomberg Businessweek. Still, as some high-profile conservatives come out for less punitive policy on drugs and criminal justice, many of their counterparts in state legislatures are moving in the opposite direction.
Before it's here, it's on the Bloomberg Terminal.
LEARN MORE