business
Investors Shrug as Microsoft Makes a Ton of Money
By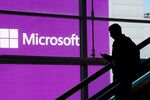 Microsoft's fourth-quarter results arrived on Tuesday, and they were, in many ways, Steve Ballmer's final report card. How did the big fella do?
Well, Microsoft's revenue rose 18 percent to $23.4 billion from $19.9 billion reported in the same period last year. Net income came in at $4.61 billion, or 55 cents a share. The revenue total beat analysts' estimates while the earnings fell short. For the full year, Microsoft's revenue rose 12 percent to $86.8 billion from $77.8 billion, while its net income rose to $22.1 billion from $21.9 billion. People have been nudged into early retirement for quite a bit less than making money hand over fist. (That said, Tim Cook has dropped $22.1 billion while walking from his car to the office and not even bothered to pick it up, so Ballmer certainly could have done more.)
Investors were unmoved and then some by Microsoft's fourth quarter. Microsoft's shares were flat ahead of the earnings release and then budged higher less than 1 percent after the numbers came out.
The lack of reaction is due in part to all the news Microsoft had already disgorged over the past couple of weeks. Satya Nadella, Microsoft's new chief executive, published a strategy memo and then followed that up with a second memo detailing plans to fire about 18,000 people over the next year. The bulk of the firings will affect the Nokia side of the house and its manufacturing operations. Microsoft noted that the Nokia devices business accounted for $2 billion in revenue last quarter. Microsoft is also winding down an effort to make original shows that would have been available on the Xbox.
Nadella has basically used his handover period like any new CEO should, hitting the reset button in a few areas and shaping the company as he sees fit. He's pledged to have Microsoft move faster and be more creative and used some draconian—in Microsoft terms, at least—measures to let people know he's serious.
Before it's here, it's on the Bloomberg Terminal.
LEARN MORE