Europeans Condemn Antisemitism as Protests Turn Racist
Patrick Donahue, Mark Deen and Gregory Viscusi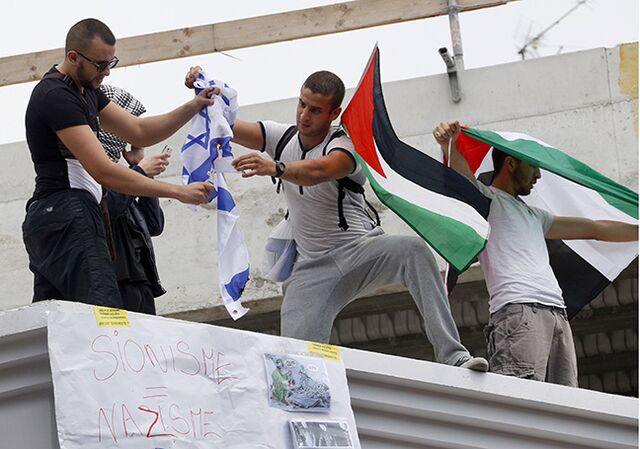 European political leaders warned against a rise in antisemitism in the region after protests over Israeli military action gave way to racist slogans and attacks on Jewish institutions.
German Chancellor Angela Merkel "sharply condemns the flare-up of violence and the antisemitic utterances," said Georg Streiter, a government spokesman. It's "an attack on freedom and tolerance and an attempt to undermine our free democratic order. This is something we can't and won't accept."
Israel's incursion into the Gaza Strip and fighting that has killed more than 600 people, the overwhelming majority of them Palestinians, have unleashed protests around Europe. Some of the rallies in Germany and France have included antisemitic chanting and even turned violent, drawing condemnation from lawmakers across the political spectrum.
Defying a government ban, as many as 7,000 people demonstrated in Paris on July 19, prompting police to use tear gas and arrest 44 people. The interior ministry said it had forbidden the rally because of its size and makeup, drawing criticism that such a move could worsen violence.
A day later in Sarcelles, a town just north of the French capital with both Jewish and Muslim communities, youths vandalized Jewish shops and burned parked cars. Military police had to guard a synagogue as 18 people were arrested trying to attack the house of worship.
"This is a first; we have never seen such hate, such a willful attack on the community," Sarcelles Mayor Francois Pupponi said on BFM TV. "It's very worrying."
Imported Conflict
Pro-Palestinian protestors heeded a French government call today to maintain calm during a Paris protest that the government had allowed to take place.
French President Francois Hollande has repeatedly warned against the risk of importing the Israeli-Palestinian conflict into his country, which, at 600,000, has Europe's largest Jewish community as well as more than 6.5 million Muslims.
In Berlin, police pledged to take action against demonstrators using an antisemitic slogan following criticism that authorities didn't initially react when the chant was used.
A crowd of pro-Palestinian protesters in the capital used the slogan -- "Jew, Jew, cowardly pig, come out and fight alone" -- during a protest on July 17, police spokesman Stefan Redlich said. He said a Jewish man had to be protected from potential attacks by demonstrators on July 19.
Nazi Regime
Antisemitic speech, including denial of the Nazi regime's murder of 6 million Jews in the Holocaust during World War II, is punishable as a crime in Germany, where synagogues and Jewish institutions are regularly guarded by police.
Authorities in the German capital are also looking into a suspected antisemitic sermon at one of the city's mosques after 15 criminal complaints were filed, according to Berlin's interior ministry.
The complaints stemmed from a video posted on YouTube that showed an unidentified imam condemning Israel, using language that accused "Zionist Jews" of being "slayers of prophets" and calling for the destruction of Jews.
"There is no place in our country or our city for antisemitism," Berlin's state interior minister, Frank Henkel, said in a statement. "Germany as well as Berlin have a historical responsibility to protect the state of Israel."
Arrests were made on July 18 in the western German city of Essen as authorities investigated a possible planned attack on the city's Old Synagogue, Deutsche Presse-Agentur reported.
Dieter Graumann, the president of the Central Council of Jews in Germany, said concrete criticism of Israeli government action had given way to open racist hatred against Jews and called for public condemnation of antisemitism in Germany.
"We are currently experiencing an explosion of potentially violent hatred against Jews that is shocking and appalling to all of us," Graumann said in a statement. "We would never have expected in our lifetime that such antisemitic rallying cries of the most vicious and primitive variety could take place on German streets."
Before it's here, it's on the Bloomberg Terminal.
LEARN MORE