Coke's World Cup Ad Blitz Flops in Brazil
by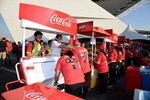 As a World Cup sponsor, Coca-Cola poured out millions of dollars for hundreds of television commercials and mentions by announcers. It sponsored the trophy's 92,000-mile tour through 90 countries, made a documentary, and released 32 versions of an anthem for the tournament. The local result of the all-out sponsorship blitz: flat second-quarter sales in Brazil, which hosted the month-long event.
Coke said during an earnings call this morning that it was up against aggressive competition from local brands, plus a poor economic environment in Brazil, during the quarter, but World Cup marketing helped to promote what the company calls "entry-level packages" (small bottles) and "multi-serve packages" (larger bottles).
Jack Russo, consumer staples analyst at Edward Jones, saw the soccer tournament as a bit of a dud for the beverage company. "The World Cup helped them but this was offset by competitors discounting and a more challenging economy in Brazil," he wrote in an e-mail. "All competitors were going after soft drink volumes given the World Cup timing. But there is a lot of competition in this fast-growing market."
The stakes for Coke had been particularly high heading into the World Cup. As Bloomberg Businessweek reported in June, Coke's flagging sales in Brazil (down 2 percent last year) spelled trouble for a market that accounted for 11 percent of the company's growth as recently as 2010. While the marketing campaign didn't increase sales, Coke Chief Executive Officer Muhtar Kent said on Tuesday's earnings call that results might have been worse without the effort. "I think [all that activity] should benefit us, going forward in Brazil," he said. Coke has no intention to cut back on ads in Brazil, where it plans to increase spending over the next few years.
Before it's here, it's on the Bloomberg Terminal.
LEARN MORE