Altria Profit Trails Estimates on Lower Cigarette Shipments
Duane D. Stanford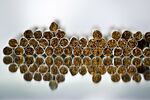 Altria Group Inc., the largest seller of tobacco in the U.S., reported second-quarter profit that trailed analysts' estimates as cigarette shipment volume declined in the U.S.
Net income fell to $1.26 billion, or 64 cents a share, from $1.27 billion, or 63 cents, a year earlier, the Richmond, Virginia-based company said today in a statement. Excluding some items, profit was 65 cents a share. The average of nine analysts' estimates was 66 cents, according to data compiled by Bloomberg.
Chief Executive Officer Martin J. Barrington raised prices in May and has been cutting costs to offset anti-smoking trends that have depressed cigarette volume sales. The company faces the prospect of stiffer competition after Reynolds American Inc., the second-biggest cigarette maker, agreed to buy rival Lorillard Inc. for about $25 billion, bringing their Newport and Camel brands under one roof to challenge the maker of Marlboro cigarettes.
Revenue rose about 1 percent to $4.57 billion. Analysts projected $4.59 billion on average.
If it's cleared by antitrust regulators, Reynolds's purchase of Lorillard will leave the 400-year-old American tobacco industry with just two competitors controlling 90 percent of the market: Reynolds and Altria.
Altria shares fell 0.2 percent to $41.93 at the close in New York. The stock has gained 9.2 percent this year.
Before it's here, it's on the Bloomberg Terminal.
LEARN MORE