The Internet Should Have Killed Weird Al. It Only Made Him Stronger
By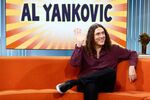 Three decades after his song-parody debut, Weird Al Yankovic is on track to have his first No. 1 album. The final sales numbers won't be released until later this week, but Billboard magazine has him neck and neck with Jason Mraz for the top spot. "A No. 1 album is something I never … in my wildest dreams ever thought would be a reality," Yankovic says by phone in California. "I was just hoping I'd get to No. 8."
That an accordion-playing parodist has become one of the most enduring musical acts of our time is—well, frankly it's a little weird. For years, Yankovic's shtick depended on the existence of the MTV-watching, album-purchasing public. Now his publicity and distribution model is doubly obsolete, and thousands of YouTube-empowered enthusiasts are doing exactly what Weird Al does—and at a much quicker pace than a major-label release schedule allows. The Internet should have made Weird Al Yankovic irrelevant years ago. In fact, it has done the opposite.
 
Yankovic released his first album in 1983, just two years after the dawn of MTV. Like so many new artists back then, he used the new medium to his advantage. "MTV was a big part in how I would advertise my albums," he says. Teenagers watched MTV religiously, so in addition to song parodies, Yankovic made shot-for-shot video spoofs to play off that obsessive familiarity. The first one he did was I Love Rocky Road, off his eponymous first album—a send up of Joan Jett's I Love Rock 'n' Roll. He followed with the Grammy-winning Eat It (1984), Fat (1988), and 1992's Smells Like Nirvana, a video so similar to Nirvana's original Smells Like Teen Spirit that it even includes some of the same actors.
By the early 2000s, people weren't watching many music videos on TV. When plans to record an Eminem parody video to promote his 2003 album, Poodle Hat, fell through, Yankovic didn't bother to find a replacement. "Poodle Hat came out in this era where people weren't sure what the point of videos was anymore. MTV had stopped being MTV, and YouTube hadn't taken off," he says. "Record labels would say, why spend all this money on something people won't see?"
 
By the time Yankovic released Straight Outta Lynwood in 2006, YouTube's existence was firmly in place, and he embraced the platform by making a music video for every parody song in the album. But there was one big change: "I just don't do as much of the shot-by-shot recreations anymore. They won't have as much of an impact, which is why I tend to just do videos based on my own lyrics now." That has actually freed Yankovic up to satirize a wider variety of topics. The video for Lynwood's lead single, White & Nerdy, for example, had almost nothing to do with Chamillionaire's original Ridin'. But it did something even better: offer a critique of white suburbanites who co-opt hip-hop culture while simultaneously becoming a nerd anthem. (This group, coincidentally, makes up a sizable portion of Weird Al's fan base.) The video for White & Nerdy became so popular that it propelled the song to No. 9 on the Billboard Hot 100.
Also on that album was Don't Download This Song, about music piracy and the Recording Industry Association of America's copyright infringement cases. Weird Al offered it up for free on his website a year before Radiohead would test its pay-what-you-want model with In Rainbows. Straight Outta Lynwood went on to sell 563,000 albums, according to Nielsen Soundscan, making it Yankovic's best-selling album of the past two decades.
His new album, Mandatory Fun, has been meticulously planned. The track listing is designed to be as relevant as possible given the boom-splat speed with which viral content is now consumed. "I've been making an active effort with these last albums to make them as timely as possible. I had everything on Mandatory Fun done and in the can, but I was waiting for the big hit of the summer," Yankovic says. "Once I settled on [Iggy Azalea's] Fancy, I had it written and was in the studio so we could make the release date."
TMZ caught Yankovic backstage at one of Azalea's concerts in early June, asking for permission to parody Fancy. That gives him a turnaround time of just a little more than a month. "That's not usually how it's done—it's usually just my manager talking to their manager without me getting involved. But on rare occasions when we're not getting an answer in time, I have to go and do it myself," he says.
Yankovic came up with Mandatory Fun's eight-videos-in-eight-days marketing concept himself. To fund the video barrage, he worked with such websites as Funny or Die and Nerdiest. Foil, which both parodies Lorde's Royals and mocks conspiracy theorists, had almost nothing to do with its original song's video. Contrast that with Tacky, which directly spoofs the dance moves of Pharrell Williams on Happy. That was possible, Yankovic says, because people watched the original Happy video so many times—it's been played more than 353 million times on YouTube—that they really do remember what it looks like even without help from MTV.
Yankovic's eighth and final video comes out Monday, a spoof on the online phenomenon of big-idea lecture videos illustrated on whiteboards. The song, Mission Statement, is a Crosby, Stills, Nash, & Young imitation instead of a direct parody. It's not as catchy as Tacky or as funny as Foil, but the video will likely resonate with anyone who's been forced to sit through a corporate strategy meeting or a really boring TED talk.
Mandatory Fun is Yankovic's last album. Not because he's quitting music or retiring—he just doesn't think the traditional album format serves his music anymore: "I'd like to be more topical and timely in what I do. I've always been a singles artist." So this will be the end of his 32-year relationship with RCA. "I think it'll be more effective if I can release songs right after I've written and recorded them," he explains. And while the videos may help give Yankovic his first No. 1 album, the sales are so low in real terms—overall record sales are already down another 15 percent from 2013, according to Nielsen SoundScan—that Yankovic only has to sell about 80,000 to snag that top spot.
There is, of course, one other reason why Yankovic has stayed remarkably relevant over the past 30 years: his music. Weird Al is incredibly deft at recreating any popular music genre—he records all his own music with the help of a band—and at skewering pop culture without being too mean about it. And his subject matter is usually more approachable than the original pop songs. At the end of the day, we probably use tinfoil more often than we ruminate on our socioeconomic place in the world, or whatever Lorde was originally singing about.