Ukraine Rebels Block Trains Carrying Bodies to Kharkiv
Volodymyr Verbyany and Aliaksandr Kudrytski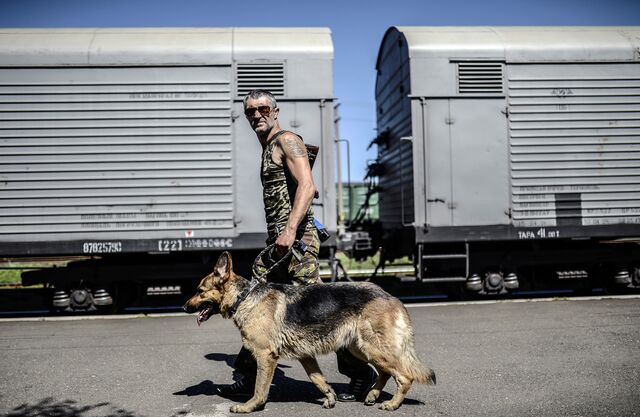 Investigators at the crash site of the Malaysian Air jet in east Ukraine are still being hampered by armed rebels who are blocking a train that's supposed to carry bodies to the city of Kharkiv, Ukraine's government said.
Pro-Russian separatists are stealing passports from the wreckage four days after the plane came down, Defense Ministry spokesman Andriy Lysenko told reporters in Kiev. The government said that rail lines are being obstructed by insurgents who are preventing the passage of 251 bodies now in refrigerated rail cars from the town of Torez to Kharkiv, which is 175 miles away and loyal to Ukraine's government.
The tragedy has sparked international outrage as governments around the world demand unfettered access to the site to recover the remains of the 298 people who died. The U.S. and Ukraine say the airliner was shot down by a weapon that came from the Russian military and they have evidence it was fired from rebel-held territory.
"Rebels are still not letting trains leave city of Torez, ignoring numerous calls from Ukrainian government, the Organization for Security and Cooperation in Europe, and the international community," the government said in a statement on its website.
The leader of the self-proclaimed People's Republic of Donetsk denied the jet was destroyed by the rebels and told reporters he's ready to hand the black boxes over, though not to the Ukrainian government.
Flight Deck
"I don't exclude certain cases of looting. Sons of b----es can be found everywhere," Alexander Borodai told reporters in Donetsk. "We are now investigating. Those who are guilty would be severely punished. We are ready to provide access and guard" the site.
Earlier, Ukrainian President Petro Poroshenko's office said that investigators had managed to make some progress, with attention focusing on wreckage from the wing and flight deck.
Still, the leader of the Dutch team on the ground said it's impossible to identify the victims at the current site.
The remains need to be brought to a site where this is possible, said Peter van Vilet, leader of the Dutch team.
Rescue workers found 282 bodies and 87 other remains as of 8 a.m. local time this morning, the government said.
In a sign of the hazards facing rescue workers, Poroshenko ordered an immediate cease fire in a 20 kilometer (12 mile) radius around the site, Interfax reported.
"The zone must be open so that international experts have access to the crash site," Lysenko said today. "Ukrainian government troops do not plan to conduct fighting there."
Before it's here, it's on the Bloomberg Terminal.
LEARN MORE