To Watch a Tough Mudder, First Sign This Waiver
Karen Aho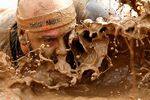 Tough Mudder has earned a reputation as one of the most grueling endurance events on the planet, attracting thousands of athletes eager to brave muddy hills, icy water, and even electrical shock fields. So challenging is the race that participants boast of surviving the "death waiver," an irreverent reference to the mandatory indemnification contract that holds Tough Mudder harmless in the event of injury or death.
But it's not only participants who sign away their right to sue: In what may be a first for a sporting event, spectators are also required to sign a liability waiver (PDF), which holds Mudder and its related parties harmless from any inherent risk or ordinary negligence.
Among the assumed risks: the possibility of being struck by objects or machines; attacked by wildlife; burned by fire; electrocuted by live wires; or even subjected to "inadequate first aid and/or emergency measures."
Fans at live sporting events assume some risks, too, but typically waivers are printed on the back of ticket stubs—by buying a ticket, a spectator assumes the inherent risks (from, say, a foul ball or car-crash debris) and silently waives his right to sue. Signs, too, warn viewers of the hazard of flying bats or pucks. But requiring spectators to sign a waiver? "Not something I've seen before," says Jeffrey Schulman, a sports and entertainment insurance lawyer in New York. It's also possibly a red flag, he added: It "seems to be an attempt to avoid liability for potentially the failure to maintain the event space in a reasonable way."
Tough Mudder confirmed the spectator liability waiver requirement but declined to comment further. Legal waivers are increasingly binding, although the degree to which they hold up against allegations of gross negligence varies by state and remains "the million-dollar question," says Josh Myers, a personal injury lawyer with Schultz & Myers, in Missouri, Illinois, and Arkansas.
Before it's here, it's on the Bloomberg Terminal.
LEARN MORE