Tesco's New Chief Swaps P&G Battle for Supermarket Struggle
Matthew Boyle and Andrew Roberts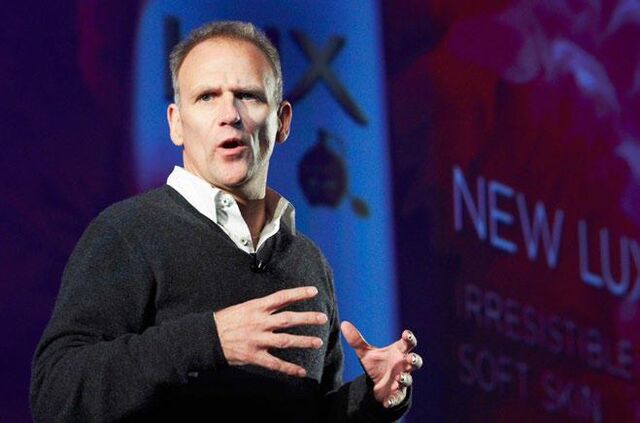 Tesco Plc's new chief Dave Lewis faces an uphill battle to turn around Britain's largest retailer. For the Unilever veteran, it's familiar territory.
At age 31, Lewis defended Unilever's laundry detergent business against an onslaught from Procter & Gamble Co. in South America, gaining market share in the process. Three years later, he grappled with political upheaval and hyperinflation in Indonesia, one of the British-Dutch company's key markets.
Now 49, the former rugby player from Yorkshire, England is taking on his biggest challenge: replacing Philip Clarke after the Tesco veteran failed to slow the march of discounters and upscale chains in a tumultuous three-year reign. With no retail experience, Lewis -- the first outside leader in Tesco's 95-year history -- will have his work cut out to win back customers, restore profit growth and reverse a four-year share price slump.
"Lewis will quickly need to prove that having no direct retail experience isn't necessarily an impediment to taking on the biggest job in U.K. retail," said Natalie Berg, an analyst at researcher Planet Retail in London.
While Lewis has never worked at a retailer, he's walked plenty of store aisles in a near 28-year career that began in 1986 as a Unilever graduate trainee fresh from Britain's Trent Polytechnic. His original plan was to learn a bit about marketing at London- and Rotterdam-based Unilever and then start his own company, he said in a July 7 interview.
"I came to Unilever to do two years and then go back to my own business," Lewis said this month. "It's 27 years later and I've shown a startling lack of ambition to do it."
European Assignments
Bouncing around various European assignments, Lewis even competed against his future boss, Unilever Chief Executive Officer Paul Polman, who was then at Procter & Gamble. One early accomplishment was bringing the Dove soap brand to the U.K., an idea Lewis conceived and handled in 10 months. The brand was introduced in the U.S. in 1955.
"I realized it was easier to be an entrepreneur inside a corporate environment, if you're brave enough," he said.
That bravery was put to the test in 1996, when Unilever sent Lewis to run marketing for its laundry business in Argentina, Uruguay and Paraguay just as P&G was entering the market. Lewis devised a tongue-in-cheek marketing plan dubbed "Project Welcome" that poked fun at P&G's Ariel brand. Instead of falling, Unilever's market share in the region rose to 82 percent from 75 percent in three years, he said.
Vaseline, Axe
In 1999, Lewis moved to run the company's personal-care business in Indonesia, a Unilever stronghold embroiled in the Asian financial crisis. President Suharto stepped down the prior year amid rioting that followed the rupiah's devaluation and steep price increases. Even as sales volumes declined, Lewis kept the research and development team busy, he said, so when the crisis passed Unilever was ready with a range of new items.
Those successes culminated in Lewis running Unilever's personal-care unit, its biggest and most-profitable division with brands such as Vaseline, Axe and Sunsilk. Over the past four years, he's expanded the 18 billion-euro ($24 billion) business through new product development and acquisitions such as 2010's $3.7 billion deal for Alberto Culver. Alan Jope, Unilever president of Russia, Africa and the Middle East, will succeed him.
Lewis has focused on key battlegrounds like the $16 billion North American hair-care market, where Unilever has more than doubled its market share to 16.9 percent since 2008, according to data tracker Euromonitor. He's also developed more expensive products with wider profit margins, like personalized skincare regimens and toothpaste that helps repair damaged tooth enamel.
Main Challenges
"His long experience at Unilever could be valuable in overseeing strategies to improve the perception of Tesco's private-label to bring it a more distinct competitive edge," said Raphael Moreau, an analyst at Euromonitor.
Among the main challenges awaiting Lewis at Tesco is a shift by shoppers away from supermarkets and toward discounters, online providers and convenience shops. The percentage of U.K. grocery shopping done at superstores and hypermarkets will fall to less than 35 percent in the next five years from more than 42 percent now, researcher IGD said in a report last month.
Lewis will also have to decide whether to step up price competition with the discounters. The budget chains will take 10.5 percent of U.K. grocery spending by 2019, up from 6.2 percent now, according to IGD.
"The rise of discount retailers and the increasingly virtual world of retailing means that brand is no longer king and customers are particularly promiscuous when it comes to filling their grocery basket," Tim Vallance, head of retail at advisory company JLL in London, said by e-mail.
Industry Outsider
Tesco shares fell as much as 3.6 percent in London today, the most since April 30. They were down 3.4 percent at 278.8 pence at 10:06 a.m., extending this year's drop to 17 percent.
Hiring well-regarded executives from suppliers hasn't always worked out for big retailers. In 2009, Lars Olofsson joined Carrefour SA as CEO from Nestle SA as the grocer was coming off a decade of sluggish sales growth in France, its largest market. In September 2010, he introduced a 1.5 billion-euro plan to revive Carrefour's largest stores in western Europe, betting that remodeled outlets with lower prices and more own-label products would boost sales and profit through 2015. It didn't, and Carrefour lowered profit guidance five times under Olofsson, who in August 2011 said he tried to do too much too quickly.
"Carrefour's former CEO was coming from a marketing background and this became visible in its management -- focusing on the branding appearances and announcing things without really working on the core business," Gildas Aitamer, an analyst at Planet Retail, said in an interview. For Tesco, hiring an industry outsider "could be dangerous."
Before it's here, it's on the Bloomberg Terminal.
LEARN MORE