pursuits
A Father's Bet on Teenage Rory McIlroy Pays Out $170,000
By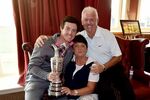 Rory McIlroy's British Open win on Sunday at Royal Liverpool Golf Club came with an added bonus for his father. In 2004, Gerry McIlroy placed a £200 bet at 500-to-1 odds that his son, then 15 years old, would win the tournament within 10 years. The bet, made with U.K. bookmaker Ladbrokes, paid out £100,000 ($170,000).
Thanks to McIlroy's father and another $140,000 in long-odds bets by his family and friends, Ladbrokes said it suffered the most expensive British Open since 2006. "Although we're facing heavy losses we can't help but admire the foresight of Rory's dad and his pals a decade ago," Ladbrokes spokeswoman Jessica Bridge said in a statement.
This generosity of spirit should come easy to Ladbrokes. Betting houses quickly recoup losses from such bets in free publicity and copycat betting. In October of last year, a man in Wales won £125,000 ($202,000) from bookmaker William Hill when his 16-year-old grandson appeared in a FIFA World Cup qualifying match. The public hand-wringing over the bet, William Hill line maker Graham Sharpe told me then, was a bit of theater. "In reality, obviously it's a great story for us," Sharpe said, "and we will have had more than £125,000 worth of publicity as a result."
A news-making loss also brings in new bets from proud parents hoping to cash in on a child's future athletic glory, record sales, election to prime minister, or, as in one case Sharpe mentioned last year, appearance on the cover of Vogue. Most of these bets lose because—sorry, mum and pop—most kids don't turn out to be Rory McIlroy, Adele, David Cameron, or Kate Moss.
Before it's here, it's on the Bloomberg Terminal.
LEARN MORE