Pet Meds: Tested on Humans, Safe for Animals
By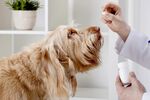 Lots of drugs for humans have been tested on animals. What about the reverse? A handful of companies have started using drugs tested on humans to develop medications for dogs, cats, and horses.
"We won't test anything on our companion animals that hasn't already been tested in humans," says Denise Bevers, co-founder and chief operating officer of Kindred Biosciences, a publicly traded Burlingame (Calif)-based company that plans to file for approval by the Food and Drug Administration of its first three pet drugs by the end of this year.
In developing countries, anti-parasitic drugs intended for livestock are often administered to humans, says Bevers. "Some Third World countries would invest in their livestock, but not necessarily in diseases for people," she says. Meanwhile, in developed nations veterinarians have long used human drugs to treat animals. Remember Gus, the depressed polar bear at the Central Park Zoo in New York? He was prescribed Prozac for swimming endless figure-eights—for up to 12 hours a day—in his pool.
The goal in creating FDA-approved drugs specifically for pets, says Bevers, is to provide accurate data on effectiveness and dosing and to develop easy-to-administer formulations, such as beef-flavored chewable pills for dogs.
Kindred Biosciences finds human drugs already available as generics and purchases their active pharmaceutical ingredients. From there, the company performs a series of trials before going to the FDA for approval. Development is relatively cheap. "Instead of $500 million plus to develop a human drug, it's $5 million or less to develop an animal drug, the way we're doing it," says Bevers. Once on the market, pet drugs may cost roughly the same as human generics, according to Kindred Bio, which is currently developing treatments for osteoarthritis, atopic dermatitis, and pain in dogs.
Competition in the pet drug market is relatively tame, notwithstanding some big players, including Pfizer spin-off Zoetis and Aratana Therapeutics. "It's probably like the pharma used to be 30 years ago—we're not going for the same drugs," says Bevers. "Now you look at biotech, and there [are] 15 companies going for the same target on a drug. It's nowhere near that on the veterinarian side."
Americans spent an estimated $59 billion on pets last year, according to the American Pet Products Association, including roughly $15 billion on veterinary care. Some owners lavish upon their four-legged family members just about any luxury, from pet yoga classes to special built-in pet suites.
Since its initial public offering in December, Kindred Bio has raised over $114 million. The company is conducting clinical trials for potential new drugs to make sure the products are both effective and appetizing. "My husband says, 'Well, if my drugs were beef-flavored and chewable, I might be more compliant,' too," says Bevers.