Nomura Leaps in Kangaroo Ranks as Japanese Buy Aussie
Benjamin Purvis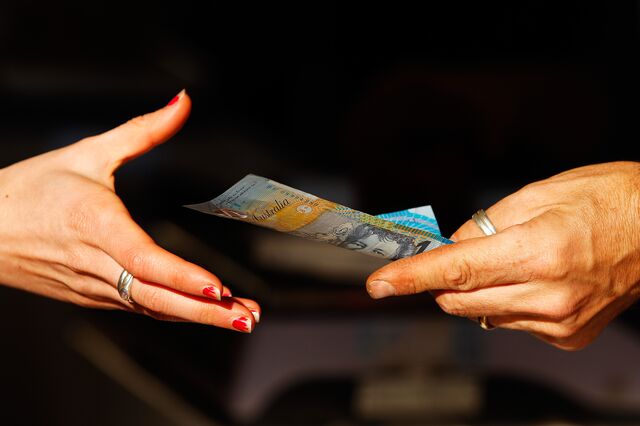 Nomura Holdings Inc. has jumped six spots in the rankings of Kangaroo bond sale managers as Japanese investors are drawn to the higher-yielding Australian dollar.
Japan's biggest brokerage helped manage 28 transactions in Australia by offshore issuers this year, boosting its share to 11.5 percent from 4.2 percent in the same period in 2013, data compiled by Bloomberg show. The Tokyo-based lender, which expanded its global footprint when it acquired European and Asian businesses from bankrupt Lehman Brothers Holdings Inc. six years ago, climbed to No. 4 in the table from No. 10 in 2013 and No. 19 in 2012.
Australia's dollar has risen 1.3 percent this year versus the yen, one of just two Group of 10 currencies to record a gain, as stimulus policies in Japan, Europe and the U.S. kept global benchmark interest rates close to zero, making the nation's yields attractive. Japanese buyers acquired 323.6 billion yen ($3.2 billion) of Aussie bonds in May, the biggest monthly net purchases since 2011, official data showed.
"Japanese clients are one of the dominant players in this market," Jon Linton, Sydney-based head of global markets in Australia for Nomura, said in a July 17 phone interview. "We've got trading, we've got the clients and we have, from our European businesses, strong relationships and links with the issuers. What we've focused on is bringing them together."
Nomura has also been expanding in other parts of the Australian fixed-income market including federal and state government notes as well as inflation-linked products, according to Linton.
Net Purchases
Net purchases by Japanese buyers of Aussie dollar debt apart from sovereign securities were 195.4 billion yen in April and 194.4 billion yen in May, the strongest months since June 2011, according to official Japanese data.
While ramping up their buying of Aussie debt, investors from the Asian nation have trimmed holdings of euro-denominated notes this year as monetary easing in the region weighed on Europe's common currency. Japanese investors sold a net 3.2 trillion yen of euro notes from January through May, data show.
Issuance of Kangaroo bonds has risen 73 percent to A$24.3 billion ($22.8 billion) in 2014 versus the same period last year. Toronto-Dominion Bank's TD Securities unit is the No. 1 underwriter, followed by Royal Bank of Canada's capital markets division and Deutsche Bank AG.
Top-rated issuers backed by foreign governments and supranational organizations are among the most frequent borrowers in the Kangaroo bond market, with Germany's KFW and the International Bank for Reconstruction & Development the largest borrowers this year.
Accelerating Issuance
Nomura has been involved with transactions for both, as well as other AAA rated names such as African Development Bank and European Investment Bank.
Japanese investors, in particular life insurers, have driven demand for high-quality issues with longer maturities, according to Nomura. While large Aussie dollar bond maturities have left investors with cash to reinvest, there is also new Japanese money flowing in, said Oliver Holt, the Hong Kong-based head of Nomura's Australian dollar debt syndicate.
"There's no good place in Japan," said Yoshiyuki Suzuki, head of fixed income in Tokyo at Fukoku Mutual Life Insurance Co. "The equity market is not so strong. Bond yields are too low and we can't purchase a lot. People want to find alternative assets." Suzuki said by phone on July 17 he's buying in the U.S. and the U.K. because those markets are more liquid than Australia.
Bonds Rally
Australia's 10-year government bond yielded 3.39 percent at the close of trading today, down 84 basis points in 2014, while Japan's fell 20 basis points to 0.54 percent in the same timeframe.
The Aussie bought 95.09 yen as of 5:30 p.m. in Sydney, compared with 93.87 on Dec 31. It's risen 5.3 percent to 93.90 U.S. cents over the same period.
Sovereign debt in Australia, which holds a stable AAA rating, is on track for a fourth straight monthly rally as traders price in the prospect of further central bank easing. There's about a 50 percent chance the benchmark will be cut to 2.25 percent from a record-low 2.5 percent by the end of this year, interbank futures show.
Australian government bonds maturing in a year or more have returned 7.4 percent this year to yen investors, the best performance after Greek and Portuguese notes among 26 indexes tracked by Bloomberg and the European Federation of Financial Analysts Societies. Japanese notes delivered 1.7 percent.
"As long as volatility stays low, Japanese accounts will continue looking for yield," Geoff Kendrick, head of Asian currency and interest-rate strategy at Morgan Stanley in Hong Kong, wrote in a July 10 report. "Global demand for high-yielding AAA paper will result in further strong inflows to Australia."
Before it's here, it's on the Bloomberg Terminal.
LEARN MORE