McDonald's and KFC Caught in China's Latest Food-Quality Scandal
By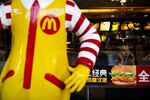 An investigation aired by China's state media on Sunday turned into one of the worst possible advertisements for Big Macs, Happy Meals, and KFC Chicken Burgers. The broadcast showed workers at Shanghai Husi Food, a supplier to both McDonald's and KFC parent company Yum! Brands, preparing expired beef and chicken and packaging meat that had been picked up off the floor.
Both McDonald's and Yum have apologized to customers and ordered their outlets to stop serving products from the Shanghai supplier. McDonald's has some 2,000 restaurants in China, while Yum has more than 4,600 KFC outlets in over 950 cities, and 1,100 Pizza Hut restaurants in about 300 cities, according to its website.
"At present, the company has been sealed and suspect products seized," the Shanghai office of the State Food and Drug Administration said on its website. Shanghai Husi, which is owned by Aurora (Ill.)-based OSI Group, "has a strict quality control system" and will cooperate with the official investigation, said Yang Liqun, general manager of deep processing with OSI China, reported the official Xinhua News Agency.
This is not the first time fast-food giants have been accused of selling bad food in China. KFC's business in China was slammed in December 2012 after state media reported some of its chicken suppliers have been violating laws forbidding excessive use of antibiotics.
A survey by the Pew Research Center released in 2012 showed that 41 percent of Chinese believe food safety is a very big problem, up from 12 percent four years earlier—a larger increase than for any other major worry, including corruption and air pollution. In the spring of 2013, China announced it was beefing up its food and drug regulator.
Before it's here, it's on the Bloomberg Terminal.
LEARN MORE