What's Hotter Than Hottest Hot? The Last Two Months
by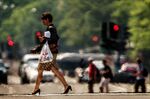 Another month, another temperature record broken.
The average temperature of Earth's surface last month exceeded all Junes before it, since record keeping began in 1880, according to new data from the National Oceanic and Atmospheric Administration.
That may sound familiar, because it's the same language used to describe the month of May, which was the hottest month of May ever recorded.
The combined average temperature over global land and ocean surfaces in June was 1.3 degrees Fahrenheit (0.72 degrees Celsius) above the 20th century average. In daily weather, 1.3 degrees is hardly noticeable -- on a planetary scale for the month, it's extreme.

Land surface temperatures in June weren't quite as scorching -- ranking just seventh highest on record; what really tipped the scales were ocean-surface temperatures, which were 1.15 degrees Fahrenheit above the 20th century average. That's not only the hottest June for oceans on record but the highest departure from the norm recorded for any single month.
We live in a season of new records. Nine of the ten hottest Junes have taken place in the 21st century, including each of the last five years. Every month of 2014 except February has ranked among the four warmest on record for that respective month. The first six months of this year are tied with 2002 as the third-warmest start to the year.
Some readers may be thinking: Well, I live in [your town here], and this summer has been just lovely. Welcome to the nature of the global climate, which has a great deal of regional variation. Much of the U.S. has had average or even slightly below-average temperatures this year. This is not the case elsewhere.

In fact, the U.S. has gotten off easy for a while now. Last year had below-normal temperatures across North America, even as much of the globe baked. All told, 2013 ranked between second and sixth warmest on record for the planet's surface, depending on the temperature dataset used, according to the annual State of the Climate report NOAA released last week.

One country does not a planet make. Except maybe New Zealand, which in the month of June saw record heat across the map.
More from Tom Randall:
Follow @tsrandall on Twitter for more hot topics.
Before it's here, it's on the Bloomberg Terminal.
LEARN MORE