After MH17, a Call for Airlines to Boycott Militarized Air Shows
By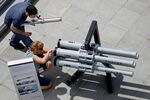 In response to the Malaysia Airlines tragedy, the editor of a prominent aviation trade journal is calling on airlines to boycott air shows where anti-aircraft weapons systems are displayed.
The downing of Malaysia Airlines Flight MH17 over eastern Ukraine occurred the same week as the Farnborough Air Show southwest of London, one of four major international shows in the aviation world. "In truth, these air shows are also arms trade fairs," Karen Walker, editor-in-chief of Air Transport World, wrote Friday on her blog. "So I propose that airline executives join together and boycott air shows for as long as they are inclusive of both airliner makers and airliner destroyers."
U.S. officials say the plane, cruising at 33,000 feet, was brought down by a Russian-made SA-11 surface-to-air missile system. Walker returned from the air show late Thursday and says she decided to suggest the boycott as a way to publicize the irony in the mix of products that are displayed at shows such as Farnborough and its annual counterparts in Dubai, Paris, and Singapore. Those large expositions all have a range of civilian and military aircraft, along with missiles and other weaponry. Moreover, many large aerospace companies—players such as Boeing, Airbus, General Dynamics, Raytheon, Honeywell, and Textron—build both military and commercial products.
"It may be a crazy idea, but it's nowhere as crazy as the shooting down of an airliner," Walker wrote. "And it's one that would give airlines a chance to demonstrate they will no longer permit their aircraft, passengers and crew to become needless, innocent victims of war."
Air Transport World is owned by Penton Media, which also publishes Aviation Week & Space Technology as well as a variety of trade titles in 13 industries. It also hosts industry conferences. Penton did not return an e-mail seeking comment on the post. Walker said she e-mailed her boss at Penton a link to the column, and he was complimentary about it. So far, says Walker, most of the e-mails generated by her blog have also been supportive.
Before it's here, it's on the Bloomberg Terminal.
LEARN MORE