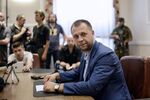 Kiev, Ukraine — Two days after Malaysia Airlines Flight 17 was shot down over rebel-held areas in eastern Ukraine, the crash site is still under the control of loosely organized, armed pro-Russian separatists and only partially accessible to international observers. It seems increasingly unlikely that there will be any definitive answers as to what happened the evening of July 17 when MH17, a Boeing 777 with 295 people on board, erupted into a cloud of smoke and scattered debris and bodies across the countryside.
The crash site is marked with sticks, topped with white swatches of fabric to indicate where bodies or body parts have been found. Ukrainian emergency workers, local coal miners, and pro-Russian separatists have been attending to the cleanup of plane wreckage and recovery of the deceased.
Separatist leader Alexander Borodai denied that the pro-Russian rebels had tampered with the crash site. However, at a press conference on Saturday afternoon, he admitted that the plane's two black boxes were missing, according to media reports. Journalists on the ground have tweeted that sections of the plane are also missing.
International observers, including members of the Organization for Security and Co-operation in Europe, have had difficulty getting access to the crash site. In an interview on Friday evening with CNN's Christiane Amanpour, Michael Bociurkiw, the OSCE spokesperson for the Special Monitoring Mission in Ukraine, said the site's perimeters were "not secure whatsoever." Said Bociurkiw: "It's very easy for anyone, really, to walk in there and tamper with evidence or debris. So a lot of work needs to be done. A lot of professional work needs to be done very, very quickly."
The bodies of the deceased are supposed to be transferred to Kharkiv, a state to the north of the Donetsk region where MH17 crashed. However, it remains unclear how  they will be moved through the labyrinth of rebel and government checkpoints. The recovery efforts at the crash site have little in terms of leadership and organization.
The crash brings Ukraine's conflict with pro-Russian separatists under sharper international scrutiny, again raising the question of how the rebels  have managed to arm themselves. Ukraine insists that Russia is funneling weapons and fighters into its territory to incite unrest. The government of Vladimir Putin  denies doing so.
American intelligence officials believe that a Russian SA-series missile shot down Flight MH17. During a special meeting of the United Nations on Friday, U.S. envoy Samantha Powers said that the missile equipment that brought down MH17 could not be operated by civilians, implying that trained professionals, most likely from Russia, had offered support. In rebuttal, the Russian representative to the United Nations denied that his country had offered any military support to the separatists. He said the blame for Thursday's incident lies with Ukraine.
Early reports had the pro-Russian separatists in possession of BUK anti-aircraft missiles. However, several separatist leaders have since denied they had any weaponry capable of taking down a plane. Given the nonexistent security at the crash site, securing evidence and conducting a proper investigation into what caused the crash of MH17 may prove frustrating, if not impossible. Recovering the bodies of the dead from what is essentially a war zone may be just as difficult.
Before it's here, it's on the Bloomberg Terminal.
LEARN MORE