The Malaysia Air Crash: The Finger-Pointing Doesn't Stop
Katherine Jacobsen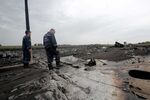 Some aboard Malaysia Airlines Flight MH17 were jetting off to a holiday in Southeast Asia. Others were heading to an HIV/AIDS conference, and some were just headed home. All met a tragic end when their plane flew through a hazardous strip of airspace in eastern Ukraine some 33,000 feet above the self-declared Donetsk People's Republic.
Photographs of the scene verge on apocalyptic: charred seats with passengers still buckled in—some still listening to their iPhones; plane doors unhinged and coated with dirt, smoke, and blood; and tour books and suitcases—no longer needed—strewn around the area of the crash.
The passenger plane was en route from Amsterdam to Kuala Lumpur when it was downed on Thursday night in a field some 50 miles from the Russian border.
As the situation unfolds, details of the crash sequence remain murky. Pro-Russian separatists handed off the Malaysian airliner's black box, which contains details of the last moments of the flight, to investigators in Moscow. Representatives of Malaysia Airlines will be allowed into the crash area to investigate, according to media reports.
Ukrainian President Petro Poroshenko called the attacks "acts of terrorism," blaming the pro-Russian separatists for the crash.
Two hundred eighty passengers and 15 crew members were killed in the crash, and at least 154 of those killed were Dutch citizens.
Igor Strelkov, the defense minister of the self-styled Donetsk People's Republic, claimed responsibility for the shooting, writing on social media that "We just downed an An-26 near Torez." (Torez is a town near the crash site.) The post has since been deleted, and it has become apparent that the plane in question was more than likely the downed MH17 flight, which was a Boeing 777, not an Antonov An-26 military transport.
The Ukrainian government has also released tapes of several conversations that allegedly took place between rebels. "They shouldn't be flying over our airspace. There's a [expletive] war going on!" said one unidentified voice of an alleged separatist.
In late June, Russia's state-funded news agency ITAR TASS, as well as the separatists' news site, novoross.info, reported that the Donetsk People's Republic had Buk anti-aircraft missiles. Buk missiles are a product of the Soviet arms-building system, and both the Russian and Ukrainian armies have Buks. According to Interfax Ukraine, the Ukrainian army does not have any weapons in the rebel-controlled area where MH17 was shot down.
Separatist leaders have since denied they have access to high-powered weaponry that can shoot down planes. However, Ukrainian military helicopters and fighter planes have been shot down over separatist-held areas before.
Earlier on Thursday, a Ukrainian fighter jet was shot down by an air-to-air missile from a Russian plane, according to a spokesman for Ukraine's Security Council, the Associated Press reported.
Russian media have introduced an alternative version of events. ITAR TASS reported that two Ukrainian fighter jets were trailing the Malaysia Airlines passenger flight before it was shot down, citing eyewitnesses in the Donetsk region.
The Ukrainian government, backed by the U.S. and Europe, continues to point to Russia's involvement in the pro-Russian separatist movement in the country's Donetsk and Lugansk regions. Russian President Vladimir Putin has denied that his country is involved in funding Ukraine's separatists, who declared their own republics in late March, shortly after Russia annexed Crimea.
On Friday, Putin called for a cease-fire between the Ukrainian army and the separatists. The president also extended his condolences to the families of those killed and said the Ukrainian government is responsible for the tragedy that occurred on the country's territory.
It is unclear, however, if the loss of life will be enough to bring the four-month conflict in eastern Ukraine to a halt.
On Wednesday, the U.S. levied another round of hard-hitting sanctions on Russia as a means to ramp up the pressure on Putin to bring an end to the conflict, in which he denies any involvement. The European Union also has sanctions on Russia, but with a more delicate hand, mindful of its close economic ties to Moscow.
Before it's here, it's on the Bloomberg Terminal.
LEARN MORE