The Feds Go After FedEx for Shipping Drugs
By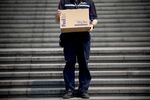 Shipping giant FedEx has been indicted by the U.S. Department of Justice for delivering drugs for illegal online pharmacies. FedEx denies the charges, which could carry a fine of more than $1.6 billion. The case is the government's latest attempt to hamper questionable online businesses by cutting off access to critical yet more established parts of their supply chains.
In the case of online pharmacies, the Justice Department is going after major shipping companies that deliver illicit drugs. To hurt some online lenders, the department has prosecuted banks that process their transactions. In both instances, the Justice Department says suppliers aren't innocent bystanders but instead that some know their customers aren't aboveboard and continue serving them anyway.
Internet pharmacies have robust supply chains. As we reported in 2011, researchers received 91 percent of purchases they made responding to spam e-mail sent by such outfits. Under a nonprosecution agreement with the Justice Department last year, United Parcel Service agreed to forfeit $40 million in sales for serving online pharmacies. UPS, which admitted the company knew it was working for illegal pharmacies, also agreed to set up a new compliance program.
In the FedEx case, Bloomberg News reports:
"The company knew it was delivering drugs to dealers and addicts, with couriers in Kentucky, Tennessee and Virginia expressing concerns circulated to senior managers that FedEx trucks were stopped on the road by online pharmacy customers demanding packages of pills, according to the indictment. Some delivery addresses were parking lots or vacant homes, prosecutors said. … FedEx continued to do business with one Internet pharmacy whose manager had been arrested for violating drug laws."
The approach echoes the government's attempts to quash unscrupulous online lenders. The Justice Department is pursing what it calls Operation Choke Point, which became public last year. From the New York Times in January:
"In the first action under Operation Choke Point, Justice Department officials brought a lawsuit this month against Four Oaks Bank of Four Oaks, N.C., accusing the bank of being 'deliberately ignorant' that it was processing payments on behalf of unscrupulous merchants—including payday lenders and a Ponzi scheme. As a result, prosecutors say, the bank enabled the companies to illegally withdraw more than $2.4 billion from the checking accounts of customers across the country. … [S]ome senior bank executives brushed off warning signs of fraud while collecting hundreds of thousands of dollars in fees. … The bank has reached a tentative $1.2 million settlement with federal prosecutors."
The financial industry has fought back fiercely. Lenders say the crackdown forces banks to refuse serving legitimate providers. Banks say they're a neutral intermediary and that prosecutors, not banks, should be responsible for policing customers. FedEx has responded similarly. Bloomberg News reports: "The company vowed to fight the charges, saying it can't be responsible for the contents of the 10 million packages it transports daily and that policing customers would violate their privacy."
The question about how closely suppliers must patrol their clients isn't going away, as greater parts of the economy—both legitimate and otherwise—continue moving online.
Before it's here, it's on the Bloomberg Terminal.
LEARN MORE