Meet the Top Taxidermists in the World, From Paris to Pretoria
by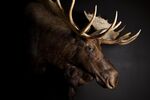 There's a certain savagery to killing an animal, skinning it, stuffing it, then nailing it onto your wall. But taxidermy isn't just about mounting mangy deer heads to plaques, or immortalizing someone's favorite terrier as a coffee table. At its highest level, taxidermy is a craft that transforms animals into sculpture. (And as you'd expect, at its lowest it's just terrifying.)
If you want the best artistry and skill, no matter where you are, you're not too far from someone who can turn your carcass into a masterpiece. Below, the best taxidermy creators from around the world.
Deyrolle, Paris.

Probably the most famous taxidermy shop in the world is Deyrolle, in Paris. Founded in 1831 by a French entomologist, generations of collectors and curiosity seekers have walked through its panoramas of stuffed crocodiles, tigers, moose, elephants and birds. In 2008 the store was gutted by an electrical fire, but thanks to help from Hermes, the French Ministry of Culture, and a host of aristocrats and celebrities, the store was back in business within a year.
Polly Morgan and London Taxidermy, London.

London is another taxidermy hub. On one end of the spectrum there's the artist Polly Morgan, whose taxidermy sells in blue chip art galleries. On the other there's the classical store London Taxidermy, whose elegant Wimbledon showroom in south-west London could be mistaken for a museum. Whichever route you take -- artsy or old school -- these are some of the highest-quality specimens in the world.
The Evolution Store, Creel and Gow, and Cypress Hills Taxidermy, New York.

Considering the near-infinite number of ironic deer heads mounted in Brooklyn bars, you'd think New York would be a taxidermist's paradise. Not so. You can buy specimens at Creel and Gow, the extraordinary home-goods store on the Upper East Side, or at Evolution (theevolutionstore.com) in Soho, which competes with the Apple store as lower Manhattan's #1 tourist destination. But for anything else you'll have to look to Queens -- Cypress Hills Taxidermy is the last real taxidermist in New York.
Bischoff's Taxidermy & Animal FX, Los Angeles.

The real heart of U.S. urban taxidermy lies in Los Angeles, where shops provide props and animal stunt doubles for Hollywood films. Bischoff's Taxidermy & Animal Fx in Burbank is the reigning king of Los Angeles taxidermy. You'll find their animals on Johnny Depp's head (in "The Lone Ranger"), standing alongside Katy Perry (her music video "Roar"), and in movies like "War of the Worlds" and "Seabiscuit."
Northern Wildlife Taxidermy, Songzhuang, China.
Taxidermy in China's tricky -- in a country with fairly loose import/ export laws, there's always a chance that you're buying an animal that's been poached illegally. That being said, China might be the best country in the world for the craft —- there are taxidermy championships held in Beijing, along with numerous taxidermy fairs. One of the largest suppliers is Beijing Northern Wildlife Taxidermy in Songzhuang, which makes up for its lack of website (or usable photos!) with plenty of press.
Al Maha Taxidermy, Abu Dhabi.

Choosing a taxidermist in the UAE is easy—you only have one option. Perhaps best known as the shop that recovered (and stuffed) the body of a giraffe that broke loose from a private zoo and died from "stress" on the streets of Abu Dhabi, Al Maha Taxidermy in Abu Dhabi has been providing stuffed animals to the gulf states since 2004. As for the unfortunate giraffe: it's been immortalized in a small museum nearby.
Highveld Taxidermy, Pretoria.

Considering the amount of African hunting safaris out there, it shouldn't be a surprise that there's a variety of taxidermists in South Africa to meet demand. These taxidermists, though, are cut from a slightly different cloth than the others on this list— one has a difficult time imagining, say, the co-owners of Creel and Gow shooting an adult elephant in the head from close range, or a shopkeeper from Deyrolle taking out one of the 12,000 remaining cheetahs on the savannah with a high-powered hunting rifle, and then turning it into a chair. But these taxidermists do, and with relish.
Before it's here, it's on the Bloomberg Terminal.
LEARN MORE