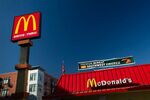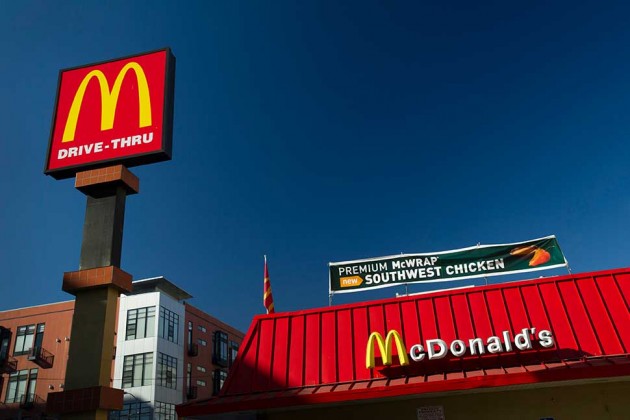 McDonald's, like many fast-food chains, doesn't own all its restaurants. Businesspeople, known as franchisees, do. In fact, McDonald's runs only 10 percent of the more than 14,000 restaurants in the U.S. But of course, it exerts plenty of influence over its 3,000 franchisees, who have contracts with McDonald's that can be renewed—or not. Now the National Labor Review Board is considering how much responsibility McDonald's has for its franchisees' employment practices. McDonald's has always said it has none. The immediate issue is alleged retaliation. The real issue is wages. A ruling could come any day now.
The case before the NLRB concerns the alleged firing of workers, and other retaliatory measures against them, who got involved with unions and helped organize protests against McDonald's. Their main demand has been for higher wages. As demonstrations spread around the country, McDonald's representatives always noted that wages are determined by the franchisees, who operate independently. If the NLRB decides that McDonald's bears some responsibility for firing decisions, the company could bear some responsibility for salary decisions, too.
McDonald's has said it's waiting for the ruling before commenting. Not so at the International Franchise Association. Steve Caldeira, the president, told Bloomberg News that if the NLRB holds McDonald's accountable, the company may have to keep a closer watch on its franchisees, and that in turn would cost money. "Thousands of small business owners would lose control of the operations and the equity they worked so hard to build," he said. "Equally troubling would be the millions of jobs that would be placed in jeopardy."
Labor activists, though, have been trying to hold McDonald's accountable since the first protest in late 2012. "The franchisee relationship is a smokescreen so corporations don't have to take responsibility for paying more," Mary Kay Henry, the head of Service Employees International Union, told me last year. "Every detail of food preparation is centralized. With that level of coordination, workers believe that corporations could figure out how to pay them more."
Before it's here, it's on the Bloomberg Terminal.
LEARN MORE