Malaysia Airlines Massacre Likely to Prompt Risk Reviews at Other Carriers
By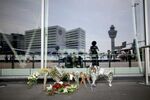 With news of the downing of Malaysia Airlines Flight MH17, one of the first questions many had was why a civilian airplane was flying over such a volatile area. Separatist rebels in eastern Ukraine apparently wondered the same. "They shouldn't be flying over our airspace. There's a [expletive] war going on!" an alleged separatist said in a recording made by the Ukrainian government and released to the media.
Yet the region was considered safe for commercial aircraft—at least above 32,000 feet—until the incident that killed 298 people on Flight MH17. Eurocontrol, the European agency that oversees airline routings on the continent, closed airspace in the rebel-controlled area on Thursday night; the Federal Aviation Administration told U.S. airlines not to fly there. On Friday, many airlines began avoiding the entire country out of an abundance of caution, with flight-tracking maps showing aircraft routed in a spherical pattern east of Ukraine, to avoid the country. (The Malaysia flight from Amsterdam today flew over Slovakia, Hungary, and Romania, avoiding Ukraine.) Turkish Airlines said flights to its three Ukrainian destinations were operating normally, but that it would not fly over the country for other flights. Delta, Emirates, and Cathay Pacific issued similar statements.
Today, airlines and government authorities in many nations are likely scouring their route maps for other potential flight risks, those places where ground conflicts could harm people passing anonymously six miles or more above. What seemed safe earlier this week may get a fresh look, predicts Sean Cassidy, an executive with the Air Line Pilots Association and a former U.S. Navy pilot.
"I would not be the least bit surprised … in light of the proliferation of a lot of the different types of weapons systems that are out there that there's certainly a lot of risk assessments and a lot of threat assessments that are being revisited not just in the Ukraine but in other areas of instability," says Cassidy, who also works as a captain at Alaska Airlines.
The European Commission has convened its four-year-old "aviation crisis cell" (a group the commission formed in 2010 due to the Iceland volcano eruption). The cell gathers member states' civil and military officials to coordinate on airspace use, security, and changes that are needed. "I would like to reassure air passengers that it is safe to fly," EC Vice President Siim Kallas said today in a statement. "But I completely understand now that the public is hungry for facts. The facts in terms of what has happened to MH17 must be laid open for global public scrutiny."
The U.S. and civil aviation authorities in other nations already have notices and security procedures for traversing places such as Yemen, Iraq, and Syria. The FAA requires notice for any U.S. carrier that wants to fly over Iraq or Yemen. Many other destinations also have FAA restrictions.
Beyond sophisticated surface-to-air missiles, there are a variety of risks to consider: Israel and Hamas have been trading missile strikes in a notoriously volatile region. Last month, a woman was killed and two flight attendants wounded when a Pakistan International civilian flight took gunfire while landing in Peshawar. And in November, U.S. airlines began notifying the Chinese government of their flight routes that include a section of the East China Sea that involves a territorial dispute between China and Japan. As part of the dispute, China declared a large chunk of the area its turf—and its military's ability to down a commercial aircraft is not in doubt.
Many flights over conflict spots are considered safe at high altitude, and airlines have a keen interest in optimal routings to save fuel costs and passengers' time. Avoiding Ukraine will add distance on some Asian routes, but the effect should be minimal, says Nils Haupt, a spokesman for Lufthansa, which flies to 24 destinations in the region. Lufthansa's flights on Friday from Frankfurt to Hong Kong, for example, skirted the coast of northern Turkey and took about 11 hours, roughly 30 minutes longer than the prior routings.
Before it's here, it's on the Bloomberg Terminal.
LEARN MORE