A Stock Market Star Implodes in Spain
A short seller exposes fraud at Wi-Fi provider Let's Gowex
by , , , and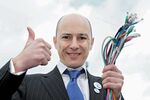 It was 10:37 a.m. on July 1. Jenaro García was preparing for a meeting with Madrid's mayor aimed at fostering Spain's entrepreneurial spirit when a message popped up on his phone. A short seller in New York had just released a report saying that Let's Gowex, the company García founded 15 years ago to offer Internet access via Wi-Fi hotspots, had overstated its revenue by almost tenfold in recent years. García denied the accusations and threatened legal action against the report's author, Gotham City Research. He continued his usual routine, posting on Twitter, "Gooooood morning Madrid!!!! Perfect day for a jog." Then he told his board that Gotham's report was on target, according to a company filing.
Gowex shares fell 60 percent before trading was suspended on July 3. García resigned on July 5 and said on Twitter that he'd made a "confession" and would cooperate with investigators. In a meeting with Judge Santiago Pedraz of Spain's National Court on July 14, he admitted to falsifying financial accounts as early as 2005, using frontmen to create companies that acted as fictitious clients, and stashing more than €3 million ($4.1 million) in a Luxembourg bank, according to a statement issued by the court. Pedraz said charges could include falsifying accounts and improperly using insider information. The company filed for protection from its creditors the same day. García and his lawyer declined to comment.
The most shocking part of Gowex's implosion is that the fraud wasn't discovered sooner. García fabricated clients and contracts and put numbers in reports that didn't add up. It was so brazen that Gotham—which pored over publicly available information about Gowex and spoke with García, other company representatives, and its competitors—began to doubt its own conclusions. "We were looking for things that might undermine our view," says Gotham founder Daniel Yu. "It was like that movie Groundhog Day, where we're waking up, expecting to see a different outcome, but each day validates our thesis."
It wasn't only investors who were duped. In 2013 the Federation of European Stock Exchanges picked Gowex as "best new listed company." Prime Minister Mariano Rajoy honored García for creating a company that "thought globally." And in May, Gowex won the top award from the Spanish Marketing Association—though the group says it has taken it back. "The whole system, from regulators to investors, didn't work properly," says Tontxu Campos, director of the Entrepreneurship Center at the Deusto Business School. "But at the end of the day, the core failure is the lack of honesty and ethics by the entrepreneur."
García said in an interview in 2013 that he trained as a futures trader and worked as an asset manager before founding Gowex in 1999. In 2010 he took the company public. Its market value jumped by almost 40 times, peaking at €1.9 billion on April 3. Gowex reported a sevenfold increase in revenue over three years, reaching €183 million in 2013.
Clues suggesting earnings manipulation were available. Gotham started with the company's auditor. Gowex paid M&A Auditores €68,500 in 2013, when it had a purported €182.6 million in revenue. The price seemed too low for the work involved. Wi-Fi companies Boingo Wireless and iPass spent 1 percent to 1.6 percent of annual sales for auditing, Gotham found. Gowex spent 0.04 percent.
M&A Auditores is located in a residential apartment complex on a tree-lined street in central Madrid. Reached by phone after Yu's report appeared, Gowex's auditor, José Antonio Diáz, denied Gotham City's claims and made jokes about Batman. García's wife, Florencia Maté, was investor relations manager at Gowex and signed off on financial statements, which added to questions about the numbers, Gotham said in its report. Chief Financial Officer Francisco Martínez had ties to companies cited in the prospectus as being two of Gowex's biggest customers. Maté and Martinez didn't respond to calls seeking comment. Judge Pedraz named Diáz, Maté, Martínez, and Javier Solsona, a member of the Gowex board and director of corporate development, as suspects, according to a court official who asked not to be identified, citing official policy.
As an example of exaggerated sales, Gotham focused on Gowex's assertion that it generated more than €100 million from roaming charges billed to other carriers for using its network. Gowex says it rents more than half its hotspots from a U.S. company called Towerstream, Yu notes. Since Towerstream says it made only $1 million in 2013 renting its network to other companies, Yu says, it's highly unlikely that Gowex managed to realize more than 100 times that much revenue from services it provides using Towerstream's infrastructure. "How can you mint lemons at 1¢ each and sell them for $10?" Yu said. "It made no sense."
Gotham says that when it met with García, he wouldn't provide specific numbers, saying that a Harvard Business Review report showed that "opaque businesses work better in the stock exchange than transparent ones." The Review's communications department says the closest thing to such an article would be one from 2006 called "The Unexpected Benefits of Sarbanes-Oxley" that argues in favor of, not against, transparency.
Before it's here, it's on the Bloomberg Terminal.
LEARN MORE