Need a Military Jet on Budget? Try the Textron Scorpion for $20 Million
By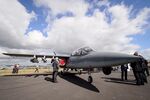 Textron could possibly win the title of least expensive aircraft, if such honors existed at the Farnborough International Airshow, with its $20 million Scorpion military jet. Yet that hasn't been enough to convince any buyers.
The maker of Cessna Citation business jets and Bell helicopters is hoping to stoke customer interest this week at the show southwest of London, one of the world's largest air expositions. The jet—which Textron sped from design sheet to finished prototype in 23 months—made its first trans-Atlantic flight this month to England and has begun flight-testing to obtain certification.
Textron markets the Scorpion as a multi-mission "ISR" (intelligence, surveillance, and reconnaissance) aircraft that can stay aloft for extended periods with a per-hour operating cost of about $3,000. America's staple supersonic fighter, the F-16, costs about $18,000 per flight hour by comparison, according to Textron. The plane can also be outfitted with weapons for some limited strike capabilities. "The value proposition—people totally get it," Dave Sylvestre, a Scorpion program spokesman, said in an interview from Farnborough. "Affordability-wise, it's off the charts, and in a good way off the charts."
Still, the Scorpion doesn't have any buyers yet, and Textron officials say they don't expect to have a customer order to announce at the show or possibly even this summer. The jet is new to the market, of course, since military officials abroad and other prospective buyers have had a chance to inspect the jet only with its public debut this month in England.
Another tricky issue for Textron has been its approach on the Scorpion program: It designed and built the plane on spec, funding the development internally. The Rhode Island-based company spent "tens of millions" on the Scorpion, Sylvestre said, but has not disclosed a specific amount and has not set any internal deadlines on when the plane needs to find a firm order. The internal approach meant the Pentagon and other customers don't have a financial stake in the project, which was engineered on the premise that affordability required a heavy reliance on off-the-shelf commercial technologies.
About 80 percent of the Scorpion was derived from equipment Textron designed for its high-performance Cessna civilian aircraft, Sylvestre said. "We understood that this was a new approach and it would take some work to bring people around to see the advantages of it," he said.
Over time, Textron executives are confident that cash-strapped governments will cotton to its plane for a variety of missions: border patrol, disaster relief, offshore shipping inspections, and pilot training. State Air National Guard units may also prove to be a potential destination for the Scorpion. For countries that spend heavily on air defense—nations such as the U.S., Japan, Britain, and South Korea—Textron argues that the Scorpion could more affordably handle much of the routine flying that the bigger, pricier supersonic planes now do at far higher cost.
"How long can things go on that way," Sylvestre asked, "before they say at least we're going to introduce an affordable option?"
Before it's here, it's on the Bloomberg Terminal.
LEARN MORE