Marvel's Plan for Black Captain America and Lady Thor
By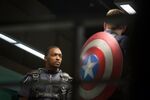 Joe Quesada, Marvel's chief creative officer, went on the Colbert Report to convey important news: Captain America will now be black.
Actually, it's more complicated. Captain American's longtime associate, the Falcon, who happens to be African American, will be assuming the role of Captain America and toting his red-white-and-blue shield. The news of Captain America's racial makeover comes on the heels of another surprise this week from the comic book publisher: The mighty Thor will be transformed into a woman in new a story line unfolding later this year.
Why so much activity in the Marvel Universe this week? Cynics might say that these are simply publicity stunts like the 2007 "death" of Captain America. That's being short-sighted. These days Marvel's comic-book division functions primarily as a research-and-development arm of Marvel Studios in Hollywood, and the whole thing is a division of the Walt Disney Co.. To spin out more movies and television shows, the parent company needs to appeal to a broader demographic than just the typical (i.e. white and male) comic book geek.
Marvel has been trying to increase diversity for a while. The publisher has already changed Nick Fury from a cigar smoking white guy into a more urbane African American with a shaved head, a character tailor-made to played by actor Samuel L. Jackson in Marvel films. This transformation long predates the Marvel movies in which Samuel L. Jackson appears; Nick Fury's demographic shift goes back to 2001 in the Marvel Ultimates comic book series. The notion of the Falcon donning Captain America's costume, by contrast, is a more seamless concept that doesn't disrupt the complicated continuity of the sprawling Marvel universe.
A female Thor would potentially bolster Marvel's paltry list of female superheroes with the power to open a movie. The company already seems likely to make a Black Widow film starring Scarlett Johansson. A woman brandishing Thor's major hammer has the same box office possibilities.
These changes protect Marvel in other ways. The company has turned such relatively unknown actors as Chris Evans (Captain America) and Chris Hemsworth (Thor) into stars. Their agents have surely suggested that they are entitled to significant salary increases if their contracts are to be renewed. Perhaps the actors and the agents may not be so bold now that Marvel isn't so dependent on cute superpowered white guys.
Before it's here, it's on the Bloomberg Terminal.
LEARN MORE