Why Was Any Commercial Airliner Flying Above Ukraine?
By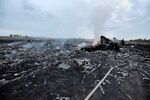 Nearly 300 people are reported dead after a Malaysia Airlines plane crashed in Eastern Ukraine. The Boeing 777 was traveling from Amsterdam to Kuala Lumpur and flying at 30,000 feet when it was shot down, according to Anton Gerashenko, an adviser to Ukraine's interior minister.
Early reports suggest that 23 Americans were onboard. State Department spokeswoman Jen Psaki declined to comment during a press briefing Thursday. The early pictures of the wreckage are gruesome, and the consequences could be enormous. The crash came less than 24 hours after the U.S. announced a new round of economic sanctions against Russian state-owned companies and a week after Ukrainian military planes were shot down. Ukraine has also accused Russia of shooting down one of its fighter jets and a military transport plane earlier in the week.
According to the New York Times, the Malaysia Air plane was traveling along a busy aviation route used by commercial airlines flying between Europe and Asia.

Within a few hours of the crash, the airspace was largely cleared as a number of airlines had announced they were rerouting away from Ukrainian airspace.

Since April, U.S. commercial planes have been prohibited from flying over certain parts of Crimea, based on a bulletin issued (pdf) by the Federal Aviation Administration. The European Aviation Safety Agency issued a similar bulletin (pdf) in April. While the Federal Aviation Administration has authority over air traffic controllers in the U.S., Europe is a much more patchwork system. Decisions about air-space and routes are made by the air traffic control agencies of individual nations. Airlines passing from one country's airspace to another are handed off by different national air traffic control groups. Helping orchestrate the whole thing is the Brussels-based European Organization for the Safety of Air Navigation, aka EuroControl.
Two hours after the Malaysia crash was announced, EuroControl was still catching up. No statements had been released, and spokeswoman Kyla Evans had no immediate information about how the crash would affect routing decisions over Ukraine in the immediate future.
Ukraine's airspace has been in dispute this year. After its annexation of Crimea in March, Russia insisted that it now had control over the airspace over the peninsula. Last week, Ukraine's infrastructure minister said that Crimea's airspace still belonged to Ukraine and released a letter from the International Civil Aviation Organization stating that the air above Crimea is still under Ukrainian control.
Before it's here, it's on the Bloomberg Terminal.
LEARN MORE