Leaving a Kid Alone in a Park Is Actually Pretty Safe
Karen Aho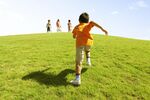 I took my nieces, ages 9 and 10, to a theme park on Saturday and sent them off to the water park for about an hour while I sat in the shade and had a beer. I texted my brother a crowd photo with this caption: "I lost your kids."
"That's OK," he texted back. "We can make more."
It didn't occur to either of us that I had endangered these girls or that I was a reckless aunt deserving of handcuffs, jail, and a media smackdown. Which is exactly what happened to a South Carolina mother who let her 9-year-old daughter play in a public park while she worked her shift at McDonald's. The fact that a bystander notified police, and the mother was charged with criminal endangerment, has since set the Internet afire. Here's what got to me:
"The mother," the local ABC affiliate reported, "confessed to leaving her 9-year-old daughter at a park while she went to work."
"Confessed" means to admit to a crime. Yet the crime here was hypothetical. As Lenore Skenazy, the founder of Free Range Kids, wrote this week in Reason: "Make 'what if?' thinking the basis for an arrest and the cops can collar anyone."
The triggering event of the mother's arrest stems from a wildly distorted notion of risk among Americans today: that somehow allowing a fourth-grader to walk to a park—one full of other children and parents, by the way—constitutes a criminal act. This was not the case a generation ago, even though the rate of serious crime is far lower today.
Of the 800,000 children reported missing in 1999, the most recent data available from the National Center for Missing and Exploited Children, only 115, or 0.014 percent, were kidnapped by someone they did not know. Stranger abduction is so rare, in fact, that statistically a child is more likely to have a heart attack than to be kidnapped by a stranger, as child safety expert Gavin de Becker notes in his book Protecting the Gift. "And child heart attacks are so rare that most parents (correctly) never even consider the risk," he writes.
And yet, according to research by sociologist Barry Glassner, national surveys consistently reveal that three out of four parents fear their children could be abducted by a stranger. In his book The Culture of Fear, Glassner blames the media's appetite for the sensational over the mundane, as well as the public's tendency to perceive even isolated, extreme events as trends.
Kim Brooks was charged with contributing to the delinquency of a minor for leaving her 4-year-old in a car for five minutes. The vehicle was locked, it wasn't hot outside, and the child was fine, but a bystander took a video and reported her. For insight, Brooks turned to Skenazy, who had herself been skewered after writing an article about letting her 9-year-old take the subway alone.
"Statistically speaking, it would likely take 750,000 years for a child left alone in a public space to be snatched by a stranger," Brooks wrote in an essay on Salon.com.
A woman at the South Carolina park where the unattended 9-year-old had played told a television reporter: "What if a man would have came and just snatched her?" The best response I've seen to date came from a reader commenting at Reason.com: "Ummm, a man did come and snatch her," poster "JerrrysKids" wrote. The girl was taken from the park and put into the custody of social services.
My nieces were not abducted at the theme park last weekend, of course, but I do admit to risking their lives, and mine: We traveled 140 miles by car that day, the three of us buckled inside a box of metal careening down a highway at 60 miles per hour. Sorry, kids.
Before it's here, it's on the Bloomberg Terminal.
LEARN MORE