Chip Giants Struggle to Break Into Cars
Reliability standards for chips are a hurdle for newcomers
By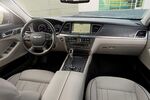 Hyundai Motor's 2015 Genesis luxury sedan is brimming with semiconductors that do everything from automatic braking to detecting blind spots. Chips pop open the trunk when they sense the owner's arms are full and sniff for carbon dioxide to determine if the cabin needs more fresh air. The companies that pioneered semiconductors for use in computers and phones produce few of the thousands of microprocessors in the Genesis. Intel contributed only a handful, and Qualcomm just one chipset; Nvidia chips don't even make the list.
Those three companies are struggling to break into the market for automotive chips, which is projected to grow 6.1 percent this year, to $27.9 billion, says researcher IHS. The cost of the semiconductors inside a new car model averages $329 per vehicle, according to a June 23 report by Bloomberg Industries; by comparison, the chips inside the iPhone 5 add up to less than $20. The business of supplying chips to automakers is dominated by a small group of manufacturers whose relationships with their customers go back years: The top five—Renesas Electronics, Infineon Technologies, STMicroelectronics, Denso, and Freescale Semiconductor—have almost 43 percent of the market, according to data compiled by Bloomberg Industries. Intel, Qualcomm, and Nvidia don't even figure in the top 10.
For newcomers, one barrier to entry is the car industry's safety and reliability standards, which far exceed those for computers or phones. Chips in consumer electronics are designed so they don't fail more than 10 percent of the time; for autos the rate is zero, according to a 2013 PricewaterhouseCoopers study of the semiconductor industry. "We don't get a beta test with our products—they have to work from the first one," says Mike O'Brien, Hyundai's U.S.-based vice president of product planning. "We can't say, 'Oops, we didn't do that right.' "
In autos, integrated circuits also have to withstand temperatures as low as -40C or as high as 160C. And because the life of a car is measured in decades, suppliers can't retire a part after only one year, as Qualcomm often does with the chips it makes for smartphones. "Experience in automotive is something that you don't grow in one day," says Luca De Ambroggi, an analyst at IHS.
In-vehicle technology is the top selling point for 39 percent of car buyers today, vs. the 14 percent who say their first consideration is traditional performance measures, such as power and speed, according to a study released by consulting firm Accenture in December. Consumers expect their cars to improve at the same rate as their smartphones, tablets, and laptops, but it can take years to work out the kinks in some of the automated driver-assistance features. Hyundai's O'Brien says that when the company began developing a laser-and-camera-guided system to help drivers go in reverse, the technology initially couldn't tell the difference between obstacles and steep driveways.
Executives at Intel, Qualcomm, and Nvidia say they are making inroads into the car chips market. During its most recent earnings call, Nvidia told analysts that automotive is the fastest-growing segment of its mobile business—and will stay that way for the future. A demonstration version of Audi's A7 sedan running Nvidia's Tegra processor drove itself onto the stage at the chipmaker's annual conference in March. "Ultimately, every car is going to have a supercomputer," says Danny Shapiro, Nvidia's senior director of automotive.
Qualcomm, which dominates the market for chips that go into smartphones, says it's racked up tens of millions of orders for wireless modems from automakers. Kanwalinder Singh, senior vice president of business development, expects that by 2017 as many as 60 percent of cars will have cellular connections, up from about 10 percent today. The company is working on chipsets that perform multiple functions for cars, including cellular connections. "We are building this in steps," Singh says. "We understand it takes a lot of effort in the nascent stage."
Intel counts BMW, Hyundai, and Infiniti, the luxury arm of Nissan Motor, among its customers and, on June 25, unveiled a research partnership with Ford Motor to explore new applications for connected cars. Intel's automotive revenue jumped 65 percent in 2013 but amounted to only $51 million, according to VDC Research. Elliot Garbus, Intel's vice president of automotive solutions, says the company plans to develop functions that track movements inside the cabin, so a driver could adjust the air conditioning or the stereo volume with a simple hand gesture. Garbus says the opportunities for chipmakers will grow as innovative features trickle down from luxury vehicles into lower-priced models. "My objective is to drive this into volume," Garbus says. "We need to drive it into entry-level vehicles."
Before it's here, it's on the Bloomberg Terminal.
LEARN MORE