How Chinatown Buses Survived Competition, Regulation, and the Occasional Gang War
by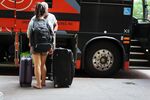 Next month, New York City will start fining the intercity carriers known colloquially as Chinatown buses for operating without permits or making stops outside of sanctioned areas, the local news site DNAinfo reports.
The uninitiated may ask: If the buses are unlicensed, why are they only being fined now? (Short answer: It's a relatively new law.) For those who know the stories of the Fung Wah, Lucky Star, or the dozens of other low-cost, no-frills bus services that have shuttled among Northeastern cities over the past 15 years, a better question may be: How did they withstand price wars, gang wars, larger competitors, and waves of regulation to continue to exist today?
By most accounts the Chinatown bus phenomenon began in the late 1990s, to serve either immigrant restaurant workers holding down jobs in multiple cities or immigrant New Yorkers with children at elite schools in Boston. In any case the bus lines quickly expanded their reach, catering to students and other frugal travelers who didn't mind obscure pickup spots or drivers who didn't speak much English if it meant a cheaper fare.
At first the competition came from other Chinatown companies. In 2004 the owner of the pioneering Fung Wah Bus Transportation described his shrinking margins after competition drove the fare from New York to Boston to $10: It cost his company $800 to cover the driver's salary, tolls, fuel, maintenance, and insurance for a round trip. A bus held 57 passengers. A full bus in both directions meant a $340 profit. Empty seats could mean a money-losing trip.
Then there was corporate competition. By 2008, BoltBus, owned by Greyhound and operated in partnership with Peter Pan, and Megabus, owned by the British company Stagecoach, were running bus routes in the Northeast that sought to entice college students with low fares, Wi-Fi, and other amenities. Last year, Greyhound and Peter Pan teamed up to launch another bus service—called Yo!— between New York and Boston.
Last came the regulators. Following some high-profile accidents, state and federal transportation authorities cracked down. In 2012 the feds shuttered 26 operators. The American Bus Association cheered, as did national and local politicians. Last year came more closures, plus news that Chinatown buses were the favored mode of transport for a pair of gun-trafficking rings. New York City's recent law is the latest attempt at a crackdown. It may hit some operators, but if history is any guide, the Chinatown buses will persevere.
Before it's here, it's on the Bloomberg Terminal.
LEARN MORE