Yellen's Philosophy: The More Jobs Data, the Better
The Fed chief goes beyond the jobless statistic to craft policy
By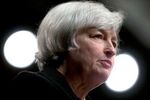 The unemployment rate, now down to 6.1 percent, indicates strong job growth and a rebounding economy. But Federal Reserve Chair Janet Yellen doesn't rely on that figure—which measures unemployment as a share of the total labor force—as her sole guide to the job market's health. In crafting monetary policy, she pays close attention to an array of other gauges on what's known as Yellen's jobs dashboard.
Yellen monitors nearly a dozen indicators to assess the labor market's health. Among them are long-term unemployment and the quits rate—the number of workers leaving their jobs voluntarily in a month as a share of total employment. Together the indicators give a fuller picture of how U.S. workers have fared in the five years since the recession ended.
While rates of firings and job openings, as well as the pace of monthly job additions, have improved from recessionary lows, six gauges linger below averages in the four years prior to the last downturn. "While we're making progress in the labor market, we haven't achieved our goal," Yellen told lawmakers on July 15.
The share of the unemployed who have been out of work for 27 weeks or longer, like many of the measures, saw some improvement in the latest Labor Department data released earlier in July. But at 32.8 percent, that figure is closer to the all-time high of 45.3 percent, reached in April 2010, than it is to the 19.1 percent average before the recession.
Labor force participation—the percentage of the working-age population that has a job or is looking for one—hovers at a 36-year low. The hires rate (the number of new hires in a month as a percent of total employment) and the quits rate (which shows how optimistic workers are about finding another job) are barely halfway to their pre-crisis averages. A measure of underemployment that includes those too discouraged to seek work and part-timers who want full-time jobs is at 12.1 percent, more than three percentage points worse than before the recession. And unemployment, while sliding faster than forecast, is still about a point above the pre-recession norm.
The emphasis on many indicators rather than one coincides with the Fed's downplaying of the unemployment rate, which has been distorted by baby boomer retirements and discouraged workers quitting the job hunt, among other factors. Starting in December 2012, before Yellen became chair, the Fed's policymaking committee put unusual emphasis on the unemployment rate. The Fed made the loose promise that the federal funds rate would linger at zero at least as long as the jobless rate remained above 6.5 percent and inflation was forecast to rise no more than 2.5 percent.
Yellen, then vice chair, already was stressing less familiar measures of a labor market so shattered by the worst financial crisis since the Great Depression that the simple unemployment rate couldn't capture the situation. In a March 2013 speech to the National Association for Business Economics, she said that studying unemployment, payrolls, and labor force participation, as well as three gauges from the Bureau of Labor Statistics Job Openings and Labor Turnover Survey, offered a better guide. Later, at her first press conference as Fed chief, she added underemployment, long-term unemployment, and the job openings rate to her list.
By March of this year, when Yellen ascended to her seat atop the world's most powerful central bank, unemployment was at 6.7 percent, close to the 6.5 percent rate that could start the unwinding of the Fed's policy of near-zero rates. But Yellen's Fed has kept rates at rock bottom, in part because, as her dashboard shows, the labor market is still too weak to thrive without help. Those rates aren't going anywhere for now.
BOTTOM LINE -
The bottom line: Long-term unemployment and labor participation rates are two of Fed Chair Yellen's favorite statistics.
Before it's here, it's on the Bloomberg Terminal.
LEARN MORE