The Downside of Low-End Luxury Cars
Carmakers risk hurting their brands as they pursue new buyers
by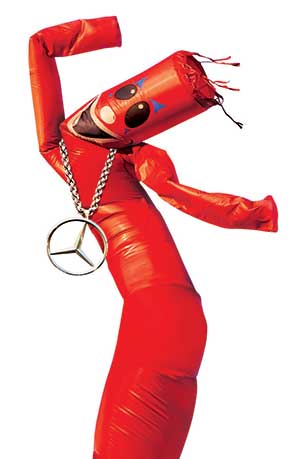 This spring, Irene Yaymadjian, a graduate student in Studio City, Calif., decided she was ready to trade up from her sporty Mini Cooper. "I wanted a nice car but something that won't put you under," she says. A few years ago, a Honda, Toyota, or a used luxury car might have made her shortlist. But after looking at the CLA, the entry-level model Mercedes introduced last year, Yaymadjian settled on an Audi A3, another recent arrival in the low-end luxury market. Yaymadjian, 29, paid $38,000 for her car, just a little more than she would have paid for a high-end Honda Accord or Ford Fusion.
That sounds like a win for Audi, but wooing younger drivers on a budget has a downside. The market's getting crowded, and luxury carmakers risk tarnishing their brands by courting comparisons with mainstream models. Yaymadjian, for example, said the $30,000 CLA "felt like I was in a Honda."
While entry-level models represent a fraction of sales for luxury brands, the market matters. Carmakers use lower-priced vehicles to target young, upwardly mobile drivers who might become loyalists for life, eventually shelling out six figures for a high-margin sedan. "We see it as adding a vital entry point for our brand," says Steve Cannon, the head of Mercedes-Benz USA. "If you make your brand accessible … you're feeding your ecosystem," he says. Cannon declined to comment on Yaymadjian's comparison of the CLA to a Honda, except to say, "the bottom line is, it's the hottest car in our lineup."
Buyers of luxury cars are shopping for image as much as quality. So when a lease price for a CLA or an A3 is within range of a Camry or Malibu, the attraction to luxury can be hard to resist, says Jesse Toprak, an analyst at researcher Cars.com. "I have a co-worker who was looking at leasing a Camry for $350 a month," he says. "She ended up in a CLA for about the same price. That's a no-brainer decision."
In April, Audi introduced the A3 with a starting price of $29,900. In its first three months the model outsold the Mercedes CLA coupe almost two to one, according to auto researcher Autodata. CLA sales have dropped in seven of the past eight months, a change from last year, when the model helped push Mercedes-Benz past BMW to become the best-selling luxury brand in the U.S. It was the most successful Mercedes model in two decades. "CLA was the only game in town for a while, and now there's something to compare it to," says Michelle Krebs, an analyst at AutoTrader.com. Cannon says Mercedes has low inventory of the CLA, which has pushed the sales rate down.

As a luxury car brand adds cheaper models, the distinctions in its lineup could start to blur, says Kevin Tynan, an analyst with Bloomberg Industries. A fully loaded entry-level car may barely differ in price from a vehicle one notch up. Audi's A4 starts at $3,900 more than the A3. The next step up, the A6, is another $9,300. "The line between less expensive and cheap is not very thick," Tynan says.
"Consumers ultimately choose the products that best suit their lifestyle, and what we are seeing is that the A4 has not faced any lost volume, and that A3 sales have provided incremental gains," says Mark Del Rosso, chief operating officer of Audi of America. About 60 percent of A3 customers are new to Audi; about 75 percent of CLA buyers are new to Mercedes.
In April, Audi held launch parties in New York and Los Angeles, and at its almost 280 U.S. dealerships, to introduce the A3 to what a brochure called "cool, young, and urban" car buyers "looking to upgrade from their non-premium sedan." Yaymadjian first saw the A3 at the Los Angeles party.
Audi has taken a different approach than Mercedes to the entry-level market, giving the A3 a sunroof and leather seats. On the CLA, a solid roof and faux-leather seats are standard features. The A3 sold for an average price of about $32,530 in June, according to Edmunds.com, compared with $38,571 for the CLA, down from $39,542 in January.
The A3 has helped Audi move into fourth place in the U.S. luxury market, behind BMW, Mercedes, and Lexus. The automaker plans to introduce a sport model of the A3, as well as convertible, SUV, and diesel versions in August. Mercedes will roll out its GLA, a small entry-level SUV, in September.
Sales of all luxury autos in the U.S. will grow 15 percent by 2018, says Scott Keogh, president of Audi of America. Luxury's share of total car sales in the U.S. will increase to about 11.6 percent from 10.5 percent by 2018.
With much of that growth coming from entry-level models, it may be worth it for carmakers to put the brand on the line. "We have been focusing on making the most out of what has been shaping up as one of the industry's fastest-growing segments," says Audi's Del Rosso. "We didn't want to dabble with this opportunity."
Before it's here, it's on the Bloomberg Terminal.
LEARN MORE