American Apparel Investor Said to Be Close to Buying Loan
Matt Townsend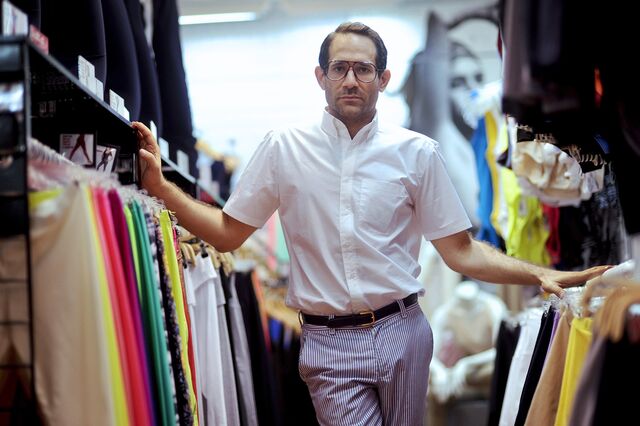 American Apparel Inc. backer Standard General LP is close to buying Lion Capital LLP's $10 million loan to the retailer, avoiding a potential default, according to three people familiar with the situation.
In buying the loan, Standard General is choosing not to let American Apparel pay the debt itself as originally planned. The move would be faster than paying off the loan and sidestep possible legal disputes, said two of the people, who asked not to be named because the discussions are private.
American Apparel, already struggling to revive a business that's lost $270 million since 2010, has been in turmoil for weeks after founder Dov Charney was suspended as chief executive officer. New York-based Standard General became involved through a loan to Charney that gave the hedge fund voting control over a 44 percent stake. The firm last week agreed to provide $25 million to help American Apparel avoid a string of defaults and help the turnaround attempt.
Standard General considers buying the Lion loan part of that capital commitment, so when the deal is completed there will be $15 million remaining, said one of the people.
Lion had filed a notice of acceleration last week demanding immediate repayment of the loan, saying Charney's suspension on June 18 put the borrowing in default. American Apparel's board had argued Charney was only suspended and wouldn't be fired until July 19.
Removing Threat
Removing the threat of a forced repayment on the Lion loan also eliminates the risk of the chain triggering cross-default stipulations on the rest of its debt, including a $50 million credit line from Capital One Financial Corp. and $210 million of bonds.
American Apparel declined 5.2 percent to $1.09 yesterday in New York. Shares of the Los Angeles-based company are up about 70 percent since Charney was pushed out.
Spokesmen for American Apparel and Standard General declined to comment. Shona Prendergast, a spokeswoman for London-based Lion Capital, declined to comment.
Charney has fought to win his job back since the board told him he was being suspended for alleged infractions that people familiar with the matter have said include misusing company funds and assets and retaliating against a former employee who sued him for sexual harassment. Charney's lawyer has called the board's reasons for his ouster baseless.
Charney Loan
After failing to hold a special shareholders' meeting, he turned to Standard General and borrowed $20 million to buy 27.4 million shares and increase his stake to 43 percent. To get the deal done, Charney ceded control of his voting rights, effectively making Standard General the retailer's biggest investor. Standard General also has the right to buy the shares back from Charney.
The board responded to Charney's moves by adopting a so-called poison pill, which prevents a takeover by diluting shares.
Standard General has said it's not pushing for Charney's reinstatement, only that it would make a fair evaluation of his tenure.
The agreement Standard General reached with American Apparel will put five new directors on the board, three chosen by Standard General and two joint designees. Current co-chairmen David Danziger and Allan Mayer are remaining.
The accord also leaves Charney's future in the hands of three board members including Danziger, who already voted in favor of firing him, a Standard General selection and one director chosen jointly by the company and the hedge fund.
The new board members are expected to be put in place in less than two weeks, two of the people said. At that point, the subcommittee deciding Charney's fate will oversee an investigation into him by FTI Consulting Inc. In the meantime, Charney is considered a consultant and will receive his base pay.
Before it's here, it's on the Bloomberg Terminal.
LEARN MORE