VW Sets Sights on Apple-Like Updates With New Speed Team
Christoph Rauwald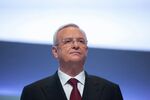 Volkswagen AG, Europe's largest carmaker, plans to mimic the fast-paced rollouts of products made by the likes of Apple Inc. to adapt quicker to changing customer demands for technology in its cars.
To accelerate vehicle development, Volkswagen is forming a task force that will include 40 to 60 top managers in the coming months, according to internal documents from the Wolfsburg, Germany-based company that were obtained by Bloomberg News. The group will identify the steps needed to change from the industry's traditional approach of revamping models every seven years as technology developments including in-car connectivity and electric motors call for speedier reaction times.
"How can we shorten today's model cycles and make them significantly more flexible?" Chief Executive Martin Winterkorn said in a transcript of a speech to managers dated July 14. "Consumer electronics with ever-new technologies and products set the pace."
VW's push comes as autos rapidly absorb new technologies. President Barack Obama this week highlighted U.S. carmakers' research on technology to allow vehicles to communicate with each other to reduce traffic jams and accidents. Consumer attitudes toward cars are also changing, forcing a rethink by automakers.
Car Sharing
Vehicle ownership, especially in mature markets like the U.S. and Europe, is no longer as desirable as it once was. Urban consumers are increasingly opting for public transportation and car-sharing services to avoid the expense and hassle of having their own auto.
"Usage is replacing ownership," consulting company Roland Berger said in a study published today. "This change in consumer habits is set to transform the private transportation of the future."
Adapting to these shifts is part of VW's effort to cut costs and improve productivity at its namesake brand by 5 billion euros ($6.8 billion) by 2017 after efficiency gains failed to keep pace with rising labor costs.
VW is pushing for savings through lower purchasing and factory expenses and reducing production complexity. The company employs almost 575,000 people, more than any other carmaker. It has sought to offset its heavy wage bill by sharing parts and development costs among its 12 brands.
Sagging Profit
With fierce competition in Europe and high costs to roll out fresh models such as the revamped Passat, the Volkswagen brand's margin dropped to 1.8 percent of sales in the first quarter from 2.4 percent a year ago. The company's target for its biggest nameplate is a 6 percent margin. Hyundai Motor Co. had a first-quarter operating margin of 9 percent.
The German carmaker isn't alone in grappling with changes in the industry. Automakers intending to bring driverless cars to market need to work as much on software design as mechanical engineering, Maarten Sierhuis, the researcher leading Nissan Motor Co.'s automated-vehicle program, said in an interview.
VW chief Winterkorn is focusing on profitability with the group's annual sales on track to exceed 10 million vehicles for the first time in 2014, four years earlier than planned. Volkswagen is set to introduce 100 new or revamped vehicles through next year as part of a strategy to dethrone Toyota Motor Corp. as the global industry leader by 2018.
Boosting profit is vital for VW as far-reaching changes are looming for automakers amid tightening emission regulations and hefty expenses to develop electric cars, Winterkorn said.
"To be able to afford this, we need to create the economic basis now," the CEO said, according to the transcript. "Without the appropriate financial basis, any strategy will and must fail."
Before it's here, it's on the Bloomberg Terminal.
LEARN MORE