Ukraine Girds for Another Battle: Fixing Its Sick Economy
By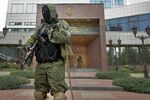 While Ukrainian troops battled separatists in the eastern Donetsk region, the country's central bank today took aim at another urgent problem, as it raised interest rates to combat soaring inflation.
The National Bank of Ukraine raised its key lending rate by 3 percentage points, to a 13-year high of 12.5 percent. With the hryvnia currency down 30 percent against the dollar since January and inflation forecast to reach as much as 19 percent by year's end, "there is a need to implement additional measures," the bank said in a statement.
The rate hike foreshadows the economic pain that lies ahead for Ukraine, regardless of whether it succeeds in quelling the separatist rebellion. While it has already received an initial $3.2 billion payment of a $17 billion International Monetary Fund bailout, Ukraine's balance-of-payments situation remains "extremely fragile," William Jackson, an economist at Capital Economics in London, says in a note to clients today.
Capital flight eased earlier this year, but seems to have accelerated in recent weeks as the fighting in eastern Ukraine shows no signs of abating. The central bank's foreign-currency reserves are "precariously low," Jackson says. "It seems unlikely that foreign investment will return to the country on a significant scale anytime soon."
The downside of an interest-rate increase, of course, is that it will dampen growth in an economy that's already mired in deep recession and expected to contract at least 5 percent this year.
But inflation is already running at 12 percent, and Ukraine is under orders from the IMF to pursue a tight-money policy. In the past, the central bank burned through its currency reserves to prop up the hryvnia, which kept consumer demand artificially high while allowing industry to remain inefficient. The government has already had to raise household utility tariffs by 50 percent as a condition of the IMF package.
Edward Voroshilov, who sells electronics accessories at a kiosk in Kiev, doesn't need an economist to tell him that the situation is grim. "Have you looked at the exchange rate?" he says. As the hryvnia has collapsed, prices have soared for his mostly-imported inventory of electrical adapters, cellphone cases, and iPad covers.  Voroshilov says he shops carefully when replenishing his stock. "If there's an old price, I buy it. If the price has already adjusted to the hryvnia's new cost, I don't." Even so, he says, "Fewer people have been buying things."
Before it's here, it's on the Bloomberg Terminal.
LEARN MORE