pursuits
Why China's Love of Transformers Won't Easily Translate Into Toy Sales
By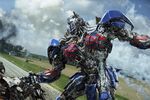 Give Michael Bay credit. Critics may have panned his latest blow-em-up spectacle, Transformers: Age of Extinction, but the director and the others involved in the movie were on to something when they decided to film much of it in Hong Kong and have the world premiere there.
Transformers is a huge hit in China, with the movie pulling in 1.73 billion yuan ($282 million) at the box office. That makes the fourth installment of the series the most popular movie in Chinese history, according to a report by the official Xinhua news agency, well ahead of James Cameron's Avatar.
With Age of Extinction such a success, the Chinese media are putting the spotlight on a husband-and-wife team who are probably the biggest fans of the Hasbro toy. Zhang Wei and his wife, Shi Yunting, live in Qingdao (the city in northeastern China famed for its beer) and over the past dozen years have spent more than $32,000 collecting Transformer toys, the official Chinese News Service reports today.
No word from the news agency on why the couple have dedicated so much of their lives to Hasbro's toys, but no doubt the Rhode Island company is hoping the popularity of the new movie will inspire many other Chinese to buy them. Speaking with analysts in February after reporting fourth-quarter earnings, Hasbro President and Chief Executive Brian D. Goldner said profitability in emerging markets had increased to 10.1 percent of revenue, compared with 8.9 percent in 2012, thanks to strong growth in China and other countries. The Transformers brand "has a great history in markets like China and a great adult collector base in those markets," Goldner said. "So you've got multigenerational appeal of the brand."
With the Chinese government relaxing its One Child Policy, Hasbro has an opportunity to extend that appeal. The toymaker announced a partnership in 2012 with Alpha Animation, a toy-and-entertainment company in southern China, but has not revealed details of the relationship since.
No matter how much they like the Transformers movie, Chinese parents and grandparents might still not be keen on buying the toys for their kids. Children in China have less time for toys than their counterparts in the U.S., says James Roy, an associate principal with China Market Research Group in Shanghai. "It's a fact of Chinese childhood that recreation and leisure are important—up to a point," he says. "But around the age of 9 or 10, school and outside classes really start to dominate kids' time as parents invest in their future, enroll them in classes, and prepare them for all the future entrance exams in their lives. From the age of 10 onward, there's a lot less time for things like toys."
(
Corrects the dollar figure of Transformers' box office take in the second paragraph.
)
Before it's here, it's on the Bloomberg Terminal.
LEARN MORE