Rupert Murdoch Tries to Swallow Time Warner
By
A new theory to explain why Rupert Murdoch has been so quiet on Twitter of late: He's been pursuing the deal of a lifetime—again.
Murdoch's 21st Century Fox made an $80 billion offer in recent weeks to take over Time Warner, according to a report in the The New York Times. Time Warner rejected the offer. Bloomberg News cited people familiar with the deal in a report that suggested 21st Century Fox would be willing to pay more than $85 per share in the merger—an offer that would exceed $75 billion.
Murdoch's company confirmed in a statement on Wednesday that its formal merger proposal had been rejected. "We are not currently in any discussions with Time Warner," the statement said. Rumors of the potential deal have been circulating for weeks.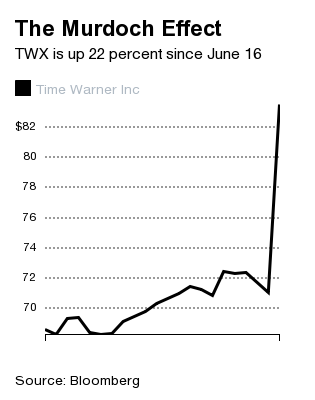 History has shown that once Murdoch locks in on an acquisition target, little can be done to dampen his ardor; just ask the Bancrofts, former owners of Dow Jones and the Wall Street Journal. With news of the offer now public, expect pressure on Time Warner to ratchet up in the coming days and weeks. Shares of Time Warner soared on the news, trading more than 18 percent higher in mid-morning.
Since February, when Comcast announced its agreement to buy Time Warner Cable, industry analysts have predicted that  consolidation among cable and satellite distributors would spur deals among major cable and satellite content providers. The year in media mergers and acquisitions has also seen AT&T move to buy DirecTV in May.
If consummated, a deal to combine 21st Century Fox and Time Warner would create a sports, movie, and entertainment colossus with $65 billion in annual revenue. The programming behemoth formed by such a merger would have great leverage to negotiate deals with the consolidated pay-TV distributors.
Both 21st Century Fox and Time Warner delighted investors recently by spinning off their troubled print-media divisions. Time Warner's current pay-TV assets include a range of lucrative networks such as TNT, TBS, truTV, CNN, Cartoon Network, and HBO. The counterparts at 21st Century Fox range from FX and Fox News to Fox Sports 1 and the FOX broadcast network. Each company also operates a major Hollywood studio—Warner Bros. and 2oth Century Fox—and owns various rights to major live sporting events.
One potential snag is that in recent years there has been much animosity between cable news rivals CNN and Fox News. Combining the major cable news outlets under Murdoch would probably incite protests from a range of public interest groups. Today's article in the Times suggests that if the deal gets done, Murdoch would sell off CNN to appease regulators.
Some industry analysts are already casting doubt on the notion that gobbling up more market share via consolidation will provide many real benefits for major pay-TV content providers. "With multiple large distribution mergers in process or expected and the historical 'lock-step' nature of content and distribution consolidation, it comes as no surprise that the content/programmer M&A question has risen up again," Richard Greenfield of BTIG wrote recently. "Our gut is that well-positioned media companies should resist the urge to merge simply to increase scale (ignore your investment bankers)."
None of which is likely to slow Murdoch. The 83-year-old media mogul has managed to get through an embarrassing public divorce, a prolonged hacking trial in London, and a significant health scare in recent month. The ultimate media survivor has survived yet again.
Now he moves to make a further conquest. Onward, to Time Warner.
Before it's here, it's on the Bloomberg Terminal.
LEARN MORE