Qatar World Cup Yet to Rescue Lending at Three-Year Low
Robert Tuttle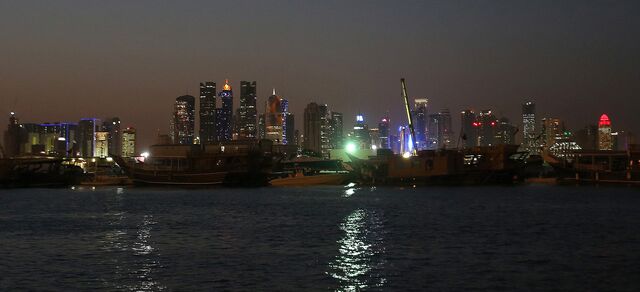 Qatar bank lending is growing at the slowest pace in three years as investment in natural-gas exports winds down before spending on stadiums, hotels and train links for the 2022 World Cup takes full effect.
Loans from domestic banks rose 13 percent in March, April and May from a year earlier, the smallest gain for the period since 2011, according to central bank data. Qatar National Bank SAQ, the Persian Gulf nation's biggest lender, recorded an 8 percent decline in net-interest income in the second quarter, the biggest drop since 2007, data compiled by Bloomberg show. The bank's 10 percent increase in quarterly lending was the smallest since 2009.
Credit growth in the Persian Gulf nation is slowing as exports of liquefied natural gas level off and as an anticipated $200 billion of spending for the world soccer championship remains subdued. Bank lending margins are also being squeezed to the narrowest in at least eight years, according to data compiled by Bloomberg, as the economy expands more slowly.
"The loan-growth pickup is expected more toward the end of this year or next year," Bobby Sarkar, head of research at Qatar National Bank Financial Services, said in a phone interview yesterday from the capital Doha. "When the World Cup was awarded in 2010, people were expecting loan pickup in the next year. These things take time."
Visitor Comforts
Even so, bank loans are increasing faster in Qatar than in two of the region's biggest economies, according to central bank data compiled by Bloomberg. Bank lending to the private sector in Saudi Arabia, the largest Arab economy, grew at 12 percent in the 12 months through April. It expanded at 8.3 percent in the same period in the neighboring United Arab Emirates.
Qatar won the right to serve as host to the World Cup by promising to build 12 air-conditioned stadiums, a $35 billion metro and rail network to shuttle fans to games and a new city of 200,000 people where some visitors would stay for the tournament.
FIFA, soccer's governing body, announced the decision four years ago as Qatar was finishing work on the last of 14 gas-liquefaction plants that transformed the country into the world's biggest exporter of LNG. As Qatar completed its gas-export projects, economic growth eased to a projected 6.3 percent this year from 15 percent in 2011, official data show.
Sub-Contracting Work
Total spending fell 1 percent in the fiscal year ended March, the first such decline in a decade, even as the nation of 2 million people builds highways, underground metro stations and the first of the planned stadiums, according to a report last month by the Ministry of Development Planning and Statistics.
Work is in its early stages, and banks won't increase lending until contracts are divided up among sub-contractors, Sarkar said.
Qatar's role as World Cup host is itself in question as a FIFA special panel prepares to issue a report this month into alleged corruption in the awarding of the tournament.
The U.K.'s Sunday Times reported on June 1 that payments were made to soccer officials in return for their support for Qatar's bid to stage the tournament. The newspaper said it obtained documents from what it described as a senior FIFA official showing that the organization's former vice president, Mohamed bin Hammam, a Qatari, paid more than $5 million to soccer officials mainly in Africa.
'Baseless' Charges
Qatar's World Cup organizing committee called the allegations about its bid "baseless" in a June 15 e-mail.
A loss of its right to host the games would be "credit positive" for Qatar because the country could delay some projects, Bank of America Merrill Lynch said in a July 14 report. Qatar's April 2019 bond yielded 2 percent today, down 72 basis points this year, data compiled by Bloomberg show.
The slowdown in Qatari lending is boosting competition among the emirate's 11 domestic lenders. Net interest margins, a gauge of profitability from lending, fell to 3.1 percent in the first three months of the year, the lowest in any quarter since at least 2006, according to data compiled by Bloomberg.
"Assets are not going to grow at the exponential rates that were expected," Ahmed Shehada, head of advisory and institutions at NBAD Securities LLC, said in a phone interview yesterday.
Before it's here, it's on the Bloomberg Terminal.
LEARN MORE